A Love Affair With Cambodia for Angkor Wat Researcher Kent Davis
RECOVERY: As life after a fire is rebuilt, passion for Khmer culture is reborn
By VINCENT F. SAFUTO Correspondent – Reprinted with permission Sarasota Herald Tribune – Full credits at bottom.

Book publisher Kent Davis and his wife, Sophaphan, escaped from their burning Holmes Beach house with only the clothes on their backs and a cell phone.
Lost in the blaze were all their personal possessions, among them a prized library collection of rare Asian books and 20,000 research photos of Angkor Wat, a giant Cambodian religious temple built in the 12th century and rediscovered by French archaeologists in the 19th century.
But Davis and his wife are rebounding from the April 2008 fire, and his passion for Cambodia, its culture and the Angkor Wat temple has found new beginnings as well.
Davis' first love affair with Southeast Asia and its culture began nearly two decades ago when he worked in Bangkok, Thailand from 1990-95. It was then that he met his wife, Sophaphan, who is Thai.
His "second love affair" began in 2005 when he and his wife took a side trip to Cambodia during a visit to see her family in Northeastern Thailand. Seeing the ancient Khmer capital of Angkor inspired the Davises to build a school in Cambodia, begin a research project about the role of women in ancient Cambodia, and to begin publishing books about the region. The venture went well, until the fire interrupted all of their plans.
In early 2009, as he and his wife continued their struggle to regain their footing and establish a new home after their fire, Davis experienced interest in his work from an unexpected place and his Cambodian works soon became official state gifts given on behalf of the United States to the King of Cambodia.
–
This was possible because Davis' fire-devastated publishing company, DatAsia Press, has resumed producing books about Southeast Asia.
So, when U.S. ambassador to Cambodia Carol Rodley was looking for a gift to present to King Norodom Sihamoni at her formal presentation of diplomatic credentials and gifts in January, she contacted Davis.
"I was looking for a gift that would symbolize the connections between the United States and Cambodia, and ideally for something related to Cambodian culture," Rodley said in an e-mail.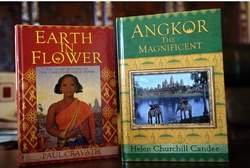 Davis offered Rodley three gifts from DatAsia: Angkor the Magnificent, an English-language book first published in 1924 that opened up Cambodian tourism to the English speaking world; Earth in Flower, the most complete history of Cambodian dance ever written; and a DVD copy of a rare American documentary about Cambodian dance made in the early 1960s.
Davis worked in Thailand from 1990 to 1995. He wanted to learn the language and joked that he met Sophaphan while looking for people to talk to. He had heard about Angkor Wat in Cambodia, but only as a cool place to visit. In the early 90's Cambodia was still recovering from the Khmer Rouge era and remained too dangerous to visit in Davis' view.
Davis and his wife moved back to the US in 1995 and in 2001 moved to his family home in Florida to develop and run a Thai-themed resort on Anna Maria Island. In 2005 they sold the resort and took their first vacation in four years, going  to visit Sophaphan's family in Thailand. They were looking to go somewhere they had never been before and decided to visit Angkor Wat.
It was a momentous decision.
"From the minute I walked into Angkor Wat, I saw something that just made me ask a question: 'Why is Angkor Wat, the largest religious structure in the world, filled with the images of women?'" Kent Davis said.
Not men, not warriors, not children. Women.
"I found that to be a question I need to answer in this life."
There are 1,780 women carved in the temple, and no two are alike, he said.
"Some of them are very elaborate and have royal crowns; some of them are simpler and have simpler hairstyles; they wear strange jewelries; they're all in specific poses; they're all in very specific locations."
"My theory is that these women represent a hierarchy that embodies the complex Khmer culture that created Angkor Wat. Women who, in fact, played a very important role in Cambodia's history," said Davis.
Sophaphan Davis was born and grew up in a village near Kalasin, a city in northeastern Thailand about 120 miles directly north of Angkor Wat. Northeastern Thailand was part of the Khmer Empire in the 12th century when the temple was built.
In November, Davis returned to Cambodia, to retake 7,000 pictures at Angkor Wat, beginning anew his research photo collection of the sacred temple.
"I fell in love with Cambodia, too," Sophaphan said. "The nature, people and lifestyle there remind me of my home when I was a child."
CAMBODIA FACTS
CAPITAL: Phnom Penh

POPULATION: 14,241,640 (July 2008 estimate)
SIZE: 69,898 square miles, slightly smaller than Oklahoma
ETHNIC GROUPS: Khmer, 90 percent; Vietnamese, 5 percent; Chinese, 1 percent; other, 4 percent
Languages: Khmer (official), 95 percent; French and English
RELIGIONS: Theravada Buddhist, 95 percent; other, 5 percent
GOVERNMENT: Multiparty democracy under constitutional monarch
CHIEF OF STATE: King Norodom Sihamoni (since Oct. 29, 2004)
HEAD OF GOVERNMENT: Prime Minister Hun Sen (since Jan. 14, 1985)
Source: CIA World Factbook
© 2009 Sarasota Herald Tribune– This article and photos appear with the kind permission of the copyright holder. No further reproduction is permitted.
A Love Affair With Cambodia for Angkor Wat Researcher Kent Davis