Banteay Chhmar Videos of Ancient Khmer Temple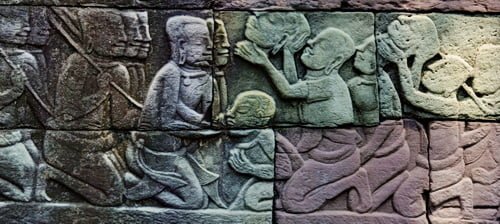 Banteay Chhmar, Cambodia — These Banteay Chhmar videos allow readers to experience the remote Khmer temple — one of the most intriguing ancient shrines in Cambodia because much of the site remains hidden, 800 years after it was built. This includes thousands of square feet of detailed bas-relief carvings that remains buried, unseen since the stone walls collapses centuries ago.
The Cambodian government is working to have Banteay Chhmar listed as a UNESCO World Heritage site, like the Angkor Heritage Park and the Khmer temple of Preah Vihear. Three partners supporting the efforts of the government and local authorities are the Global Heritage Fund (GHF), Community Based Tourism (CBT) and Heritage Watch International.
Andrew Marino, an educator with extensive Asian experience, is now working for Heritage Watch International teaching English to CBT workers at the site. He also maintains the Visit Banteay Chhmar website and posted these two videos produced by Agir Pour le Cambodge and Global Heritage Fund respectively. The films give viewers worldwide a chance to experience this unique and remote temple, as well as understanding more about the restoration and community development efforts underway.
Banteay Chhmar Videos on Community Based Tourism
The legendary history of Banteay Chhmar and a look at how the local community-based tourism (CBT) group is beginning to offer temple tours, homestays and educational activities including traditional music, silk weaving, bird watching etc. Originally supported by Agir Pour le Cambodge (APLC) the CBT is now supported by Global Heritage Fund (GHF) which is conserving the temple.

An overview of the Global Heritage Fund's (GHF) conservation project of the Banteay Chhmar Temple in Banteay Chhmar, Cambodia. The 12th century Angkorian temple bears startling bas-reliefs of Angkorian-era life and Bayon-style face towers similar to those found at Bayon Temple, near Angkor Wat.
RELATED Banteay Chhmar LINKS
Banteay Chhmar 1937 – George Groslier's 1937 account of this ancient Khmer City
Banteay Chhmar – Working to Save Another Angkor Wat
Banteay Chhmar – Official tourist and traveler information website