India and Cambodia Share Historic Reunion at Angkor Wat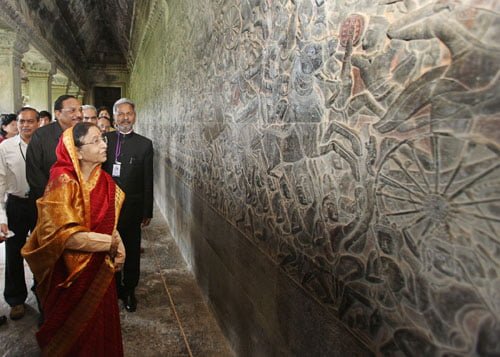 India and Cambodia Share Historic Reunion at Angkor Wat
By Kent Davis
"To the age old friendship between India and Cambodia; to the progress and prosperity of the people of Cambodia; and to the historic city of Siem Reap and to the World Heritage site of Angkor Wat."
With these words the President of India, Shrimati Pratibha Devisingh Patil, honored her Cambodian hosts in Siem Reap province, home of Angkor, the capital of the Khmer empire that brought civilization to most of Southeast Asia between the 8th and 15th centuries.
India and Cambodia share much religious, architectural, artistic, literary and spiritual heritage. In ancient times, royal members of the educated Brahman class began traveling to Southeast Asia where local leaders apparently welcomed them and assimilated their ideas into their own indigenous culture.
In Earth in Flower, Paul Cravath relates a strong link between India and Cambodia with this tale of Cambodia's origin with a royal Indian progenitor:
According to the oral tradition recorded by the Chronicles, Preah Thong was the son of a north Indian king who was banished and came to Kok Thlok where he drove out the Cham ruler prior to his courtship of the beautiful daughter of the King of the Nāga, called Neang Neak (nana naka) or "Lady Serpent."
Following a grand marriage, the nāga king created a kingdom for his son-in-law by drinking the waters covering a vast area on which he then formed houses and a palace. This kingdom took the new name of Kambuja, and Preah Thong was the first Khmer king.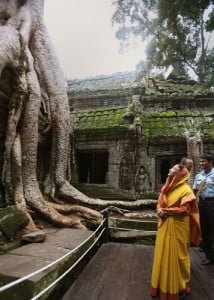 Cambodian classical dance still include performances of this legend in their repertoire.
The President's title, Shrimati (abbreviated as Smt.), is a title of veneration that means radiant or effulgent light. The Khmer language shares this term because of its Sanskrit roots. The "Sri" root of the title itself is a feminine term from ancient times, but today men have adopted the formerly feminine prefix. Married women use Shrimati and Sushri is used as the equivalent of Ms.
In 2007, Smt.  Patil became the first woman President of India. Her appointment is a powerful reminder that women also played essential roles in developing, governing and perpetuating the Khmer Empire. The most magnificent temples built by the Khmer, including Angkor Wat, the Bayon, Ta Prohm, Preah Khan and many others, prominently feature female imagery.
Regarding her views on the role of women, Smt. Pratibha Devisingh Patil stated that
"Empowerment of women is particularly important to me as I believe this leads to the empowerment of the nation."
The Khmer civilization evidently valued equality and women's rights very highly in building their balanced society. The latest research on the women of Angkor Wat indicates that they may have represented many different nationalities. There is considerable evidence that Angkor was an important international center for economic and intellectual commerce so this seems probable.
Before her visit to Angkor the King of Cambodia, H.M. Norodom Sihamoni, received Smt. Patil at the Royal Palace in Phnom Penh. The Prime Minister of the Kingdom of Cambodia, H.E. Mr. Hun Sen and the President of the National Assembly, H.E. Mr. Heng Samrin, also met with the President of India during her visit.