Picture Postcards of Cambodia: 1900-1950 – Book Review
This beautiful new edition from White Lotus Press is a true historical masterpiece that captures the adventure, diversity and visual excitement of early 20th century Cambodia in a medium familiar to everyone: the picture postcard.
While French and Cambodian archives are filled with books, manuscripts and government records, the photographic history of the nation is more limited. As author Joel Montague discovered
"it is a happy coincidence that the era of French expansion to Southeast Asia…coincided with another era, one that came to be known by aficionados of ephemera as 'the golden years' of the picture postcard!"
Indeed, postcards became a powerful way to share the adventure of Asian life. Economical and readily available, literally millions were sent to friends and relatives around the world, forming important impressions of Cambodia, inspiring dreams and undoubtedly many journeys.
Over the decades, postcards captured the rapidly changing landscape of this nation under French influence, often presenting a contrived, romantic image of the Cambodian Protectorate. Today, however, the fraction of postcards that survived are scattered among dealers, obscure archives and private collectors around the world. And so M. Montague began collecting these snapshots of the exotic life in this Eastern land with the dream of one day sharing this treasure trove of rarely-seen images of Cambodia.
The result of his passion is this splendid 327-page volume. In addition to including hundreds of his best and rarest postcard discoveries, the author organized this presentation into 16 categories, each supplemented with detailed historical information (see below for the full Table of Contents).
Postcards of Cambodia is now an essential resource for colonial scholars (e.g. as an ideal companion to Penny Edwards' book, Cambodge: The Cultivation of a Nation, 1860-1945). Naturally, Montague's book will be indispensible for other collectors, but with the difficult work so pleasantly accomplished, why collect? The opportunity is here for all curious travelers to instantly enjoy these fascinating glimpses of Cambodian history.
Review by Kent Davis – www.devata.org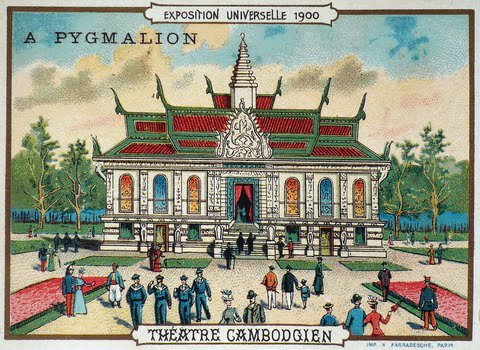 BOOK DETAILS
Title: Picture Postcards of Cambodia 1900-1950
Author: Joel G. Montague
ISBN: 9789744801197
Publisher: White Lotus Co., Bangkok
Contents: 327 pp., illus., 19 pp. in color
Size: 210×300 mm, pbk. Weight: 1.400 Kg
PURCHASE INFO for Picture Postcards of Cambodia
Publisher and International Distributor – White Lotus Press
Founder Diethard Ande established the Bangkok-based White Lotus Press in 1972. Since then he has produced important new books about Southeast Asia and reissued classic titles that have long been out of print. White Lotus offers fast, reliable shipping worldwide. PICTURE POSTCARDS OF CAMBODIA: 1900-1950 is readily available at bookstores in Thailand.
Cambodia – Monument Books
Australia – Old Asia Bookroom
United States – Dalley Book Service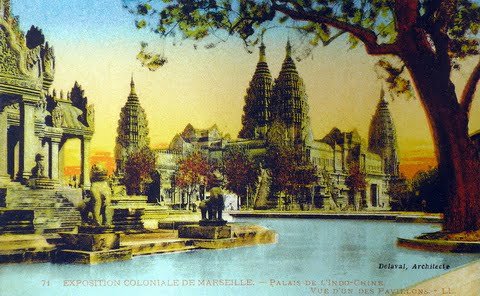 COMPLETE TABLE OF CONTENTS
PICTURE POSTCARDS OF CAMBODIA: 1900-1950
By Joel G. Montague
1 – FRENCH INDOCHINA: THE GEOPOLITICAL CONTEXT
An Introduction to the History of the Protectorate of Cambodia within Indochina
Colonial Cambodia
The Question of "non-History"
The Picture Postcard: An Ephemeral Record of Early Twentieth Century Cambodia
Colonial Administration in the Five States of the French Indochinese Union
A New World: Picture Postcard Maps of Indochina
2 – PICTURE POSTCARDS OF CAMBODIA: 1900 TO MID-CENTURY
The History of the Picture Postcard
Categorization of Postcards of Cambodia
The Messages on Picture Postcards with Images of Cambodia Sent from Indochina
Photographers, Editors, Printers and the Dating of Postcards
Identification of Some Key Elements of Picture Postcards Used to Illustrate this Book
The Postal Service for Indochina Picture
3 – THE MONARCHY
Images of the Cambodian Royal Family
4 – THE PALACE, THOSE SERVING THE MONARCHY, AND GOVERNMENT OFFICIALS
The Royal Palace in Phnom Penh
The Palace Staff and Those Serving the Government
5 – CAMBODIA'S CAPITAL, THE GREAT CITY OF PHNOM PENH
French Colonial Structures
The Phnom and its Surroundings
6 – CAMBODIA'S LIFELINE -THE MEKONG RIVER
The Port and Canal of Phnom Penh
The Great River and the Boats on it
7 – THE KHMER AND OTHER INHABITANTS OF CAMBODIA
The Khmer
Other Inhabitants
8 – KHMER DANCE AND MUSIC
9 – INSTITUTIONS OF PARTICULAR INTEREST
Indigenous and French Troops
The Prison System
Educational Institutions
Foreign and Local Hunters
10 – THE RELIGIONS OF CAMBODIA
Buddhism
Catholicism
Islam (the Cham-Malay)
11 – SCENES FROM PROVINCIAL AND RURAL CAMBODIA
Major Towns
Villages and Dwellings
12 – THE CAMBODIAN ECONOMY
Animal Husbandry and Agriculture
Fisheries and Forestry
Commerce and Handicrafts
13 – IMPORTANT EVENTS AND RITES OF PASSAGE
Festivals and Ceremonies
The Water Festival
14 – ARCHAEOLOGICAL WONDERS OF CAMBODIA
Angkor Wat and its Neighbors
Nokor (Kampong Cham)
15 – CAMBODIA AND THE KHMER ABROAD
International Expositions and Fairs Featuring Indochina and Cambodia
Tiny Glimpse of the Khmer Presence in Neighboring Countries
16 – COLOR PICTURE POSTCARDS
ACKNOWLEDGMENTS
ENDNOTES
BIBLIOGRAPHY
LIST OF POSTCARD EDITORS AND PUBLISHERS