Royal Cambodian Dance Presentation by Chatfield Author Paul Cravath
by Nathan Campbell – © 2009 The St. Charles Press
This article appears with permission of the copyright holder. No further reproduction is permitted.
After Paul Cravath's research on the Royal Cambodian Ballet was cut short, following intensive bombing in Cambodia in 1975, his dissertation languished until completion in 1984. After years of releasing portions of the dissertation for scholarly articles, publisher Kent Davis read two sentences quoted in one journal and contacted Cravath immediately, realizing the historical significance of his unique study.
Davis published the dissertation as a book in 2008 under the title Earth in Flower: The Divine Mystery of the Cambodian Dance Drama, and it is now available for sale on Amazon. You might ask, how did a Chatfield native end up in Cambodia studying dance?
Cravath graduated from Chosen Valley High School in 1962. He immediately enrolled at Luther College in Decorah, Iowa, and graduated with a B.A. in 1966. A history professor at Luther helped Cravath earn a Fulbright Scholarship, which took him to Indore, India, for one year. Cravath says he thought he'd "died and fallen into a National Geographic magazine."
He also taught for one year in Tokyo. Until earning a master's degree in drama at Tulane University in New Orleans, Cravath never took a theater course. As his education progressed, however, Cravath's interest in the world of drama grew and he decided to attend the University of Hawaii because it had the best Asian theater program in the world. Located on the shores of Pearl Harbor, Cravath studied there for about 3-1/2 years, honing his language skills and narrowing his focus to the Royal Cambodian Ballet.
Cravath originally was unaware of Cambodia's unique dance form. He initially wanted to study Tibetan theater, but there was no one available with whom he could study the Tibetan language. He then switched focus to the Beijing opera and learned Mandarin Chinese. But by his third year of study, he was introduced to the military struggles in Cambodia and became passionate about the country's unique ballet and the need to preserve it, at least on paper.
The Royal Cambodian Ballet – now called the National Troupe – used to belong to the king and included his harem and ritual dancers. As many as 1,000 dancers were involved in the ballet troupe. Young girls from all over the country were given to the king and the most beautiful girls were trained to dance. Those who were extraordinarily gifted joined the performing company. Cravath says, "It's the embodiment of the country's energy in a sense."
The fighting in the Cambodian capital of Phnom Penh ranged from 1974 – 1979. The capital was taken in April of 1975. Because holding a performing part in the ballet troupe was considered a government position, dancers knew that they would be killed for their association with the king. The government of Cambodia wanted the art form documented before it was destroyed; a professor at the University of Hawaii was given the chance to do this, and passed the opportunity on to Cravath.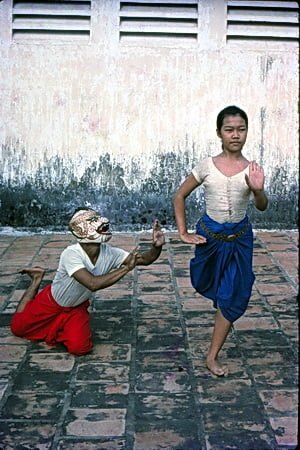 Cravath arrived on January 11, 1975. In a letter written just two days earlier, while traveling through Bangkok, Cravath wrote: "On Monday, the rebels shelled the airport with 43 mortars and are said to have massed 2,000 troops north of the city. Probably the situation as a whole is not so ominous, and the Cambodians are famous for just carrying on regardless of the flak."
Another letter, dated January 17, says that rehearsals and training in the dancing classes had been suspended because of the bombing. In all, Cravath was able to spend only three of the six months he had planned in Cambodia. He was evacuated on April 5, 1975, to Bangkok. In order to complete as much research as possible, Cravath then studied the Thai form of ballet, because it was derived from the Cambodian dance style.
Cravath says that the Cambodian style of dance is "slow, hypnotic and beautiful." The temple at Angkor in Cambodia, says Cravath, was considered to hold the flowers of the earth and the original "heavenly dancers." While not compelling for the fast-paced American lifestyle, it is taught in small troupes in Washington, D.C. and also Seattle. Only one major troupe – in Cambodia – remains.
After the rebels took the capital in April of 1975, some dancers escaped and fled to France; others were killed. Vietnam took over in 1979 and set up a military dictator who is still in power. Although a king is still enthroned in Cambodia, he does not have any real power but is rather a figurehead. Cravath was able to return to Cambodia in 1995, where he met Princess Buppha Devi, by then the Minister of Culture – Princess Buppha Devi was the daughter of King Sihanouk who had reigned in the 1970s. Cravath was also able to meet with a well-known teacher and singer who was his best source of information on the continuation of traditional Cambodian dance.
Cambodia in the 1970s was "a dramatic time, a dramatic subject," says Cravath. He's appreciative that there is interest in the book. Such an interest is an example of internationalism – recognizing that there is more to the world than the American performing arts.
Printed on 70 pound acid-free matt-coated stock, case bound and Smyth sewn, Earth in Flower was designed to last 100 years or longer. Of the 840 copies printed, 760 are in existence. The book costs $128 and includes significant documents and information that were destroyed by the Khmer Rouge. The book also contains 188 black and white photos, plus 7 color pictures.
Earth in Flower is dedicated to Princess Buppha Devi, who was a prima ballerina in the royal troupe. The book is primarily being marketed to research libraries, partly due to the cost, but in large part because there is no record in any language so definitive on the history of the Royal Cambodian Ballet. Written to preserve the Cambodian people's history, Cravath says that portions of the book are very interesting; other parts are less so, containing simple documentary lists.
While Cravath continues to reside in Hawaii – specifically Honolulu – he is usually able to spend the months of June and July in Chatfield with his family.
Cravath will be speaking in St. Charles at 7 p.m. on June 29 for the inaugural Author's Night held at the Community Center. You can find more information about Cravath's book at www.EarthInFlower.com.
Royal Cambodian Dance presentation by Chatfield author Paul Cravath