Heritage Watch Protects Cambodian Antiquities
Feature by Erin Linn
Phnom Penh, Cambodia – On February 9, 2010, a number of key government and foundation officials gathered to introduce ICOM's Red List, defining irreplaceable treasures of Cambodian heritage protected under law. As staff worker with Heritage Watch International, it was my honor to present our organization's initiatives to counter illicit trafficking of cultural objects.
The creation and publication of the RedList is a true sign of the national and international support for the protection of Cambodia's outstanding cultural heritage.  Dr. Dougald O'Reilly, the Director of Heritage Watch, was one of many experts who contributed to compiling the RedList.   Heritage Watch is honored to be among the many organizations working to preserve Cambodia's patrimony.
Heritage Watch was founded in 2003 due to a sharp increase in the destruction of Cambodia's precious cultural heritage – especially the looting of ancient temples and cemetery sites nationwide.  Heritage Watch's mission consists of five key elements:
To study threats to cultural heritage, including the illicit trade in antiquities, the looting of archaeological sites, and loss of historic architecture;
To educate and increase awareness among the public of the profound importance of heritage resources;
To increase access to and awareness of national and international law affecting cultural property, while working with the proper authorities to implement, enforce, and improve it;
To promote responsible and sustainable tourism practices that further cultural and economic development and encourage the tourism industry to support the arts, culture, heritage and development;
To foster communication between relevant governmental and intergovernmental agencies, nongovernmental organizations, academic institutions, and individuals.
Heritage Watch is currently developing and implementing three projects in an effort to achieve the overall mission of the organization and further efforts to counter illicit trafficking of cultural objects.
How Heritage Watch Protects Cambodian Antiquities
1. Heritage Development at Banteay Chhmar
In November 2009 Heritage Watch received the Archeological Institute of America's Site Preservation grant to implement a heritage protection and community development program at Banteay Chhmar.  The project goals are to educate local residents on the benefits of protecting Cambodia's heritage, to deter looting of archaeological sites, and provide training in tourism practices that protect cultural heritage.
Heritage Watch will be working with a number of dynamic groups there including the Global Heritage Fund, the Community Based Tourism group (or CBT) at Banteay Chhmar, Meanchey University, and local government.
Our methods include implementing English language training, Guide Training, Heritage Protection education for CBT members, and village workshops to educate rural communities about the importance of protecting local heritage.
2. The DHARMA Antiquities Protection Database Project
In 2008 Heritage Watch began developing the Database of Historical and Archaeological Regulations for the Management of Antiquities (DHARMA).  Cambodia has taken significant and important steps towards protecting its cultural heritage, and a solid framework has been set in place.  There is still much to be done, however, to further develop that framework.
The DHARMA project presents a range of legal reforms to strengthen legal protection of Cambodia's cultural property. Heritage Watch will work with Cambodian government officials  to compile, publish, analyze and improve the country's legal framework for heritage management.
DHARMA has won the support of the APSARA Authority; the Ministry of Culture and Fine Arts (MoCFA); the Ministry of Land Management, Urban Planning, and Construction (MoLMUPC), the US Embassy, the American Bar Association, and various legal professionals and academics in the field.  By unifying communications between Cambodian government departments and international organizations and experts, DHARMA will help them to identify and draft the necessary legislation to continue improving Cambodia's legal protection of its cultural heritage.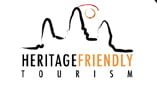 Angkor Wat, the Angkor Heritage Park and other magnificent temples and monuments of the Khmer civilization attract millions of visitors to Cambodia each year, making them one of the country's most valuable resources.   Although tourism is vital to economic development, it can often have negative impacts on heritage sites, threatening the continuing stream of economic benefits.
The HFT Campaign teaching the importance of protecting Cambodia's cultural heritage and maintaining sustainable tourism practices at heritage sites. It accomplishes these goals by provides educational resources and training for local communities, tourism operators, and tourists.
In collaboration with the Ministry of Tourism, the APSARA Authority, the Cambodian Community Based Eco-Tourism Network and various other government and non-government  organizations, Heritage Watch is working to implement a Heritage Protection, Guide Training, Development Program for a number of Community Based Tourism  groups associated with or near Heritage sites.
Our project at Banteay Chhmar models many of the objectives of the HFT Campaign: educating local communities about protecting Cambodian heritage, deterring looting of archaeological sites, and providing CBT groups with the training and skills needed to directly benefit from tourism while protecting their cultural heritage.
In 2010, Heritage Watch is working to reinvigorate and strengthen its efforts to protect Cambodia's cultural heritage.  The Red List is a significant step towards promoting and achieving this objective. This Heritage Watch article on VOA News details exactly how this information is used to stop crime and antiquities trafficking.
Moving forward, Heritage Watch plans to continue collaboration and cooperating with the Cambodian government, international governments, and local and international organizations.  Heritage Watch is proud to contribute to this effort and we sincerely thank all of our partners and associates for their pro-active actions in protecting Cambodia's rich historic inheritance.
THE RED LIST OF CAMBODIAN ANTIQUITIES AT RISK
Hosted by The National Museum of Cambodia
Welcome address by :
H.E. Chuch Phoeurn
Secretary of State, Ministry of Culture and Fine Arts
Mr. HAB Touch
Director of the National Museum of Cambodia
Presentations by:
H.E. Mr. HIM Chhem
Minister of Culture and Fine Arts of Cambodia
H.E. Ms. Carol A. Rodley
Ambassador of the United States of America to Cambodia
Ms. CHAU SUN Kérya
Director of Angkor Tourist Development Department, ASPARA Authority
Major General KEO Vannthan
Commissariat General of National Police, National Central Bureau of INTERPOL
Erin Lin
Project Officer of Heritage Watch
Mrs. Jennifer Thévenot
International Council of Museums (ICOM) Programme Activities Officer