Chau Say Tevoda Khmer Devata Temple Reopens
Siem Reap, Cambodia – Visitors can again see angels (devata) on earth as the Chau Say Tevoda Khmer devata temple reopens. The 12th century Khmer temple of Chau Say Tevoda, just outside the Gate of Victory at the northeast corner of Jayavarman VII's walled ancient capital of Angkor Thom. Chau Say Tevoda Khmer Devata Temple Reopens
Between 1,120-1,150AD, Angkor Wat's sponsor, King Suryavarman II, also began building the elegant Hindu temple of Chau Say Tevoda. Yasovarman II is credited with additional work during his brief reign (1,160-1,166AD). Finally, Jayavarman VII (ruling 1,181-1,215 AD) added new decorative elements to harmonize with the religious transformation he initiated converting the state from Hinduism to Buddhism.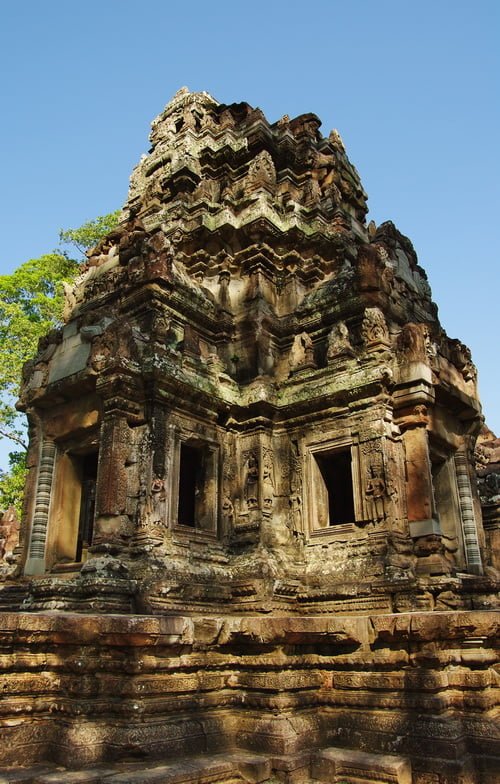 Two of the Khmer civilization's greatest kings, Suryavarman II and Jayavarman VII, also installed the greatest number of sacred female images, or devata, in their temples. The style and unique qualities of the devata at Chao Say Tevoda make this small temple well worth a detour on any visit to Angkor.
Chau Say Tevoda includes a central sanctuary, two libraries and four gopura (gateway) structures, one for each cardinal point. Directly to its north sits Thommanon temple, which was also built by King Suryavarman II based on a similar design.
Thommanon also features prominent devata in fine condition (see Devata.org's Thommanon photo gallery here) but there are significant stylistic differences in the women populating the two temples. For years, Thommanon was in far better condition thanks to extensive restoration done by the EFEO in the 1960's under the direction of Bernard Philippe Groslier.
Unfortunately, Chao Say Tevoda had been devastated by centuries of natural erosion, and all that remained were 4,000 pieces of stone masonry, many of which had tumbled down an embankment into the Siem Reap River.
Chau Say Tevoda Khmer Devata Temple Reopens
On March 29, 2000, H.R.H. Princess Buppha Devi with APSARA Authority and other Cambodian dignitaries welcomed H.E. Yang Tin Ai, Ambassador for the People's Republic of China as his government initiated a massive restoration project of the temple that included both Chinese and Cambodian workers. Tim Tye's Asia Explorers website offers a few excellent photos taken while the restoration.
The Chinese restoration project was controversial because they chose to totally reconstruct the temple buildings by including newly fabricated stones. While American and Japanese teams rejected this approach it conformed to UNESCO and ICOMOS guidelines allowing for their use of 2-9% of modern replica stones in heritage reconstruction.
The results are dramatic. The new sections are easy to identify and, while the replicas do not equal the artistic quality of the original Khmer sections, they do help visitors experience the temple in a condition closer to what was originally built.
The Chinese team completed their work in 2009, when the improved temple again began receiving visitors.
May the devata of Chao Say Tevoda bestow blessings on the Chinese for their important contribution of restoring this Khmer cultural treasure.
NOTE: A complete photo gallery of all the unique Chau Say Tevoda devata is in preparation. The link will be posted here in the future. In the meantime a trinity of devata appears below: