Kindle Cambodia Books 2013 with Amazon Discount Prices
Digital Kindle Cambodia books 2013 now include gripping personal stories, folktales and wonderful novels of adventure set from the time of Angkor to our modern day, all of them literally at your fingertips instantly with Amazon's Kindle Paperwhite Reader.
Kindle has been Amazon's #1 bestselling item for years . It's also the most-wished-for, most-gifted, and has the most 5-star reviews of any Amazon product! Amazon just introduced an improved version for only $116 so if you've been waiting to try this technology, this could be the time.
Best of all, Kindle users save money on books because Amazon's digital Kindle Cambodian books are usually less than printed copies.
By Helen Candee – $9.99 (List $39.95)
"The tale of it is incredible;
the wonder which is Angkor is unmatched in Asia."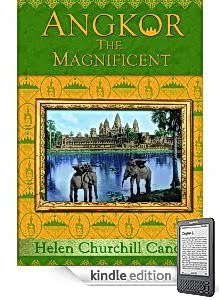 So begins Helen Churchill Candee's classic tale of Asian adventure. Today, readers can again experience the mystery of Cambodia's vast jungle temples through her eyes.
Although Helen Candee is best known for surviving the sinking of the RMS Titanic, she walked with kings, presidents, the wealthy and the powerful. entertaining, educating and influencing them. This independent woman championed feminine equality and fought tirelessly for woman's rights.
As a single woman she traveled the Far East with a keen eye for detail, an inquisitive mind, and a sensitivity for local culture. Helen Candee's travelogue remains one of the most evocative English language accounts of the ancient Khmer capital.
This special Kindle edition included her complete 1924 work with dozens of antique illustrations, an index and bibliography. This digital version also features an original biography of Helen Candee by historian Randy Bryan Bigham, and a reprint of Candee's original account of the Titanic disaster itself.
By John Burgess – $12.26 (Print list price $14.95)
"A wonderful and compelling story that vividly evokes the glory, violence, and beauty of the vanished Khmer empire, as told through the testimony of one remarkable woman. This is a real page-turner of a narrative in which Burgess brings us into the dangerous world of palace intrigues and into the lives of Angkor's ordinary people."
– Michael D. Coe, author of Angkor and the Khmer Civilization
A Woman of Angkor is a powerful work of imagination that takes the reader to a faraway time and place and makes the story vividly real. Through the voice of his heroine, Sray, John Burgess conjures a story of a Khmer family whose lives are interwoven with the building of the magical, mysterious temple of Angkor Wat. This is historical fiction with a difference – about a people whose history has been obscured and abandoned like the magnificent shrine that for so many centuries lay hidden in the jungle.
– David Ignatius, columnist for The Washington Post and author of Bloodmoney
By Vaddey Rattner
Told from the tender perspective of a young girl who comes of age amid the Cambodian killing fields, this searing first novel—based on the author's personal story—has been hailed by Little Bee author Chris Cleave as "a masterpiece…utterly heartbreaking and impossibly beautiful."
For seven-year-old Raami, the shattering end of childhood begins with the footsteps of her father returning home in the early dawn hours bringing details of the civil war that has overwhelmed the streets of Phnom Penh, Cambodia's capital. Soon the family's world of carefully guarded royal privilege is swept up in the chaos of revolution and forced exodus.
Over the next four years, as she endures the deaths of family members, starvation, and brutal forced labor, Raami clings to the only remaining vestige of childhood—the mythical legends and poems told to her by her father. In a climate of systematic violence where memory is sickness and justification for execution, Raami fights for her improbable survival. Displaying the author's extraordinary gift for language, In the Shadow of the Banyan is testament to the transcendent power of narrative and a brilliantly wrought tale of human resilience.
By John Shor
In his international bestseller Beneath a Marble Sky, John Shors wrote about the ancient passion, beauty, and brilliance that inspired the building of the Taj Mahal. Now with Temple of a Thousand Faces, he brings to life the legendary temple of Angkor Wat, an unrivaled marvel of ornately carved towers and stone statues. There, in a story set nearly a thousand years ago, an empire is lost, a royal love is tested, and heroism is reborn.
When his land is taken by force, Prince Jayavar of the Khmer people narrowly escapes death at the hands of the conquering Cham king, Indravarman. Exiled from their homeland, he and his mystical wife Ajadevi set up a secret camp in the jungle with the intention of amassing an army bold enough to reclaim their kingdom and free their people. Meanwhile, Indravarman rules with an iron fist, pitting even his most trusted men against each other and quashing any hint of rebellion.
Moving from a poor fisherman's family whose sons find the courage to take up arms against their oppressors, to a beautiful bride who becomes a prize of war, to an ambitious warrior whose allegiance is torn–Temple of a Thousand Faces is an unforgettable saga of love, betrayal, and survival at any cost.
By Muriel Paskin Carrison (Author) and Kong Chhean (Translator)
Cambodian Folk Stories from the Gatiloke, a collection of ancient Cambodian folk stories, have their origin in the gentle teachings of Buddhist monks. The settings are usually towns, villages, farms, or forests where people live and work-people with ordinary strengths and weaknesses, people who face life's usual problems as they go about their daily business. There are stories of peasants whose quick wit saves them from thieves and scoundrels, and tales of clever women who foil traps set for them by greedy nobles. Humorous stories ridicule unjust rulers and tell of the absurd predicaments of people. Animal fables teach lessons in justice, wisdom, and compassion. Some of the stories in this collection have been passed on by word of mouth from generation to generation for thousands of years; others are more modern Cambodian classics. All portray the heart and soul of the Cambodian people.
By Somaly Mam
Born in a village deep in the Cambodian forest, Somaly Mam was sold into sexual slavery by her grandfather when she was twelve years old. For the next decade she was shuttled through the brothels that make up the sprawling sex trade of Southeast Asia. Trapped in this dangerous and desperate world, she suffered the brutality and horrors of human trafficking—rape, torture, deprivation—until she managed to escape with the help of a French aid worker. Emboldened by her newfound freedom, education, and security, Somaly blossomed but remained haunted by the girls in the brothels she left behind.
Written in exquisite, spare, unflinching prose, The Road of Lost Innocence recounts the experiences of her early life and tells the story of her awakening as an activist and her harrowing and brave fight against the powerful and corrupt forces that steal the lives of these girls. She has orchestrated raids on brothels and rescued sex workers, some as young as five and six; she has built shelters, started schools, and founded an organization that has so far saved more than four thousand women and children in Cambodia, Thailand, Vietnam, and Laos. Her memoir will leave you awestruck by her tenacity and courage and will renew your faith in the power of an individual to bring about change.
No longer on Kindle but still worth reading
By David Chandler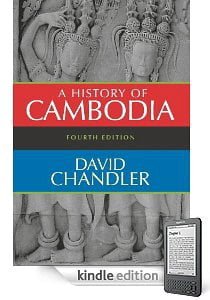 This clear and concise volume provides a timely overview of Cambodia, a small but increasingly visible Southeast Asian nation. Hailed by the Journal of Asian Studies as an "original contribution, superior to any other existing work," the first edition ended in 1953 with Cambodia's independence from France; the second carries the narrative forward to the present.
In the new material, Chandler focuses especially on the unstable but influential career of Prince Norodom Sihanouk, the bloody reign of Pol Pot's Khmer Rouge, and the relative calm that followed the Vietnamese invasion of 1979. This comprehensive general description and analysis of Cambodia will illuminate—for specialists and general readers alike—the history and contemporary politics of a country long misunderstood.