Angkor the Magnificent – Cambodia Daily Review
Angkor the Magnificent – Cambodia Daily Review
A Glimpse of a Bygone Era
Helen Churchill Candee's Account
of Southeast Asia Was Ahead of its Time
By Michelle Vachon – The Cambodia Daily
Angkor the Magnificent – Cambodia Daily Review © 2010 – This article appears with the permission of the copyright holder. No further reproduction is permitted.
Phnom Penh, Cambodia – For those of us living an easy flight or a bus tide away from Angkor, reading Helen Churchill Candee's book Ang­kor the Magnificent is a reminder that, for nearly a century, some people have virtually circled the globe for the privilege of seeing the temples that residents of Cambodia may take for granted.
Her trip to Angkor in 1922 meant finding in Hong Kong a ship whose captain knew how to avoid pirates in the South China Sea, then sailing to Saigon, as Ho Chi Minh City was then called, and from there traveling by boat to Siem Reap province. But nothing deterred this American woman, a larger-than-life personality who ended up better known for writing one of the first eyewit­ness accounts of the sinking of the ship Titanic in 1912, on which she was a passenger.
Visiting Angkor, she described it as "one of the most grandiose cities of antiquity" in her book first published in 1924. "'In these precincts, the race called the Khmers lived a life of luxury, pomp and display, which has not been exceeded at any time in any part of the world. And all this was at a time when Europe was sunk in the dull apathy of the Dark Ages, when France was a savage coun­try, England uncivilized and Germany a hinter­land of barbarous hordes."
A new edition of "Angkor the Magnificent" has been released by the US publishing house DatAsia, which has published other out-of-print books dealing with Cambodia.
"I knew that her words were as relevant today as the day she wrote them," DatASIA publisher and editor Kent Davis said.
Journalist and historian "Randy Bryan Bigham and other Titanic historians including Phillip Gowen provided text and photos for Helen's first published biography," Mr. Davis said.
Written as a journal rather than a travel guide, one of the most surprising aspects of her book on Angkor is how fresh it reads. Using a very person­al and even poetic style of writing, Ms Churchill Candee creates an intimacy with the reader as she describes fellow travelers and incidents that might have happened just yesterday: hotel guests complaining about their rooms, tourists fascinat­ed by Cambodian classical dancers or negotiating with market vendors.
Also found in her visit to Angkor is the female star of long-ago stage shows imposing her cap­rices on her patient husband, and a single woman who, while behaving as an austere celibate flirts with that same husband at the first opportunity. There also is the fat Catholic priest, taking the best seat in a small boat away from a Cambodian woman carrying a baby, two irascible journalists and a US artist eager to sketch everything she sees in Cambodia.
Ms Churchill Candee's views on Vietnam and Cambodia are pointedly anti-colonialist, which one could expect from today's Western commen­tators but less from a casual visitor 90 years ago. In Saigon, which she describes as a city of "luxu­ry, pomp, dissipation," she found the French bored, trying to recreate the atmosphere of their towns back home while at the same time desper­ately hoping to leave the colony. Juxtaposed with the colonials are the Vietnamese, working 12 hours a day carrying buckets of coal to ships and pulling rickshaws, many of them living on the streets because of heavy French taxes, which made owning a home prohibitive.
"We look on the sallow nostalgic French and then the impoverished native and wonder why the combination was ever made," she writes. "In the interests of civilization and proper progress is the proper answer. It is the greed of those who exploit Asia for the benefit of the West."
In Phnom Penh, Ms Churchill Candee found a better atmosphere: The French appeared less unhappy and the Cambodians less scared. How­ever, she noted, King Sisowath and his Cam­bodian officials had no power, although, in theory, Cambodia was an independent country under the protection of France: The King was on a salary and most of the country's revenues, exploited by the French, went to Paris.
Ms Churchill Candee arrived at Angkor by boat and because the Tonle Sap lake's water level was too low for the vessel to dock, passengers had to transfer from the bigger boat to small fish­ing embarkations at midnight. Doing this today in Siem Reap in the middle of the day in the dry sea­son is frightening enough, let alone in the middle of the night in 1922.
"We were a silent crowd, half asleep, and we were a timorous one," she recounted. Cars were awaiting them on shore. At their Bungalow in the morning, they were greeted with a sight that one can only envy: Angkor Wat Their rustic hotel was about 100 meters from the monument's first steps and moat.
"We had not been told [Angkor Wat] would greet us like the sun at early morning," she writes. "But we were thrown before its beauty unprepared, unshrived, unshorn." She would dedicate nearly two chapters to describing the temple.
The enigmatic faces of the Bayon temple mes­merized her: "Nowhere in the world does mutual race understanding seems so impossible as before the great temple of Bayon […] An art expresses a people's soul. A soul that could be thus expressed is not one that the West could understand," she wrote.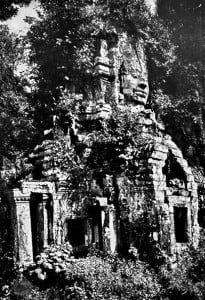 She also describes other monuments, including Ta Prohm and Prah Khan; her visit to Siem Reap town, then just a village; and a Cambodian classical dance performance at Angkor Wat.
She also speaks of the animals portrayed in sculptures and wall carvings at Angkor. "It is like nothing else," she writes of the naga. "The form is the result of many centuries of legend and belief; the past evidence of past religion and stories."
Ms Churchill Candee had come to Cambodia hoping to better understand what had happened after the Khmer empire lost its power around the 15th century. In the absence of books and ar­chives that were probably written on perishable material and destroyed by the elements and wars, leaving only religious and administrative records carved on stones, the transition between Angkor and the weak Cambodian nation of the late 19th century is hard to explain, she writes.
The Khmer dominated the region for cen­turies and then, she says at the end of her book, "The envy of the enemy killed them. […] A race arose from obscurity; it built the most marvelous edifices of Asia; it was subjugated and it disappeared."
Today, Angkor remains, she writes, "not only a secret place but a place full of secrets."
Reading about Ms Churchill Candee's life is as captivating as reading her book. Born in 1858 in New York City to one of the first English families to immigrate to the US in 1620, Ms Churchill Candee divorced her abusive husband in 1896 — ­something that, at the time, usually brought dis­grace on a high-society woman — Randy Bryan Bigham says in his chapter on her life.
Wishing to support herself and her two chil­dren, she started writing essays in US women's publications, first on housekeeping and etiquette, and later on health, education and community government, Mr. Bigham wrote.
Her first book, "How Women May Earn a living," was a best seller in 1900 and is considered groundbreaking. She supported women s rights all her rue, even heading a march in Wash­ington, DC, in 1913 for women's suffrage.
A hostess who entertained US presidents as well as artists in Washington, she became an inte­rior decorator before the profession was ever es­tablished; worked for the White House as well as for embassy residences; and wrote a series of books on interior design, antique furnishings and tapestries.
Traveling extensively, she found herself on the Titanic on its fateful maiden journey. According to Mr. Bigham, the scene from the 1997 James Cameron film "Titanic" in which Jack and Rose stand at the ship's bow came out of her memoirs.
During World War I, Ms Churchill Candee volun­teered at the front with the Red Cross in Italy, a country she especially loved. Her travels in the 1920s took her to Asia, on which she wrote travel and political stories. Her book on Angkor, one of the rare English-language publi­cations on the subject at the tune, earned her an award from King Sisowath.
She died in 1949 at the age of 90 at her cottage in the US state of Maine.

For more information about Helen Churchill Candee and her book  please visit AngkorSecrets.com.