Literary Awards Honor Lost History of Cambodian Dance Earth in Flower
In the midst of a Southeast Asian warzone, Paul Cravath conducted groundbreaking research on Cambodia's sacred royal dancers. Thirty years later, the Kiriyama Prize and Nautilus Awards have recognized his newly released book: Earth in Flower- The Divine Mystery of the Cambodian Dance Drama. Literary Awards Honor Lost History of Cambodian Dance Earth in Flower
Honolulu, HI – Two prestigious awards welcome the release of the long anticipated history of Cambodian dance, Earth in Flower, previously featured on the cover of Publishers Weekly magazine. This definitive study reveals the mysteries of Cambodia's 1,000 year old dance tradition; a cultural legacy nearly destroyed by the Khmer Rouge genocide.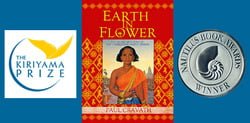 Kiriyama Prize judges selected Earth in Flower as a 2008 Notable Book. The Kiriyama Prize recognizes books about the Pacific Rim and South Asia that encourage greater mutual understanding of and among the peoples of this vast, culturally diverse region. In 2007, Three Cups of Tea by Greg Mortenson and David Oliver Relin won the Kiriyama non-fiction prize.
The Nautilus Book Awards promote growth, conscious living, high-level wellness, and responsible leadership. Judges recognized Earth in Flower as a Silver Award Winner in the Indigenous/Multicultural category.
Dr. Cravath's title offers new insights into the long-hidden history of this beautiful Asian performing art. Publisher Kent Davis adds "The book's surprise is learning how these Khmer women profoundly affected Asian history for a millennium as living goddesses, priestesses, queens, concubines, hostages and diplomats."
Davis concludes, "A wartime twist of fate gave the author rare access to the formerly sequestered troupe of royal dancers. Following his escape from Cambodia and years of research his study essentially vanished, only to be seen by a handful of scholars…until now. This book is a milestone in Asian history."
Literary Awards Honor Lost History of Cambodian Dance Earth in Flower