Nginn-Karet Foundation Teaches Cambodian Dance at Banteay Srey Temple
Written by Peter Olszeski© 2009 The Phnom Penh Post
This article appears with the kind permission of the copyright holder. No further reproduction is permitted.
A Banteay Srey dance school started by Lady Coxen is transforming rough-edged girls from poor Siem Reap villages into disciplined performers of traditional sacred Khmer ceremonies.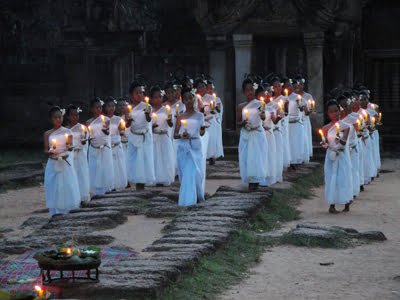 SIEM REAP, CAMBODIA – A unique dance school founded by Lady Ravynn Karet Coxen to train village children from Banteay Srey has been officially named following a sacred ritual earlier this month in honour of King Sihamoni's birthday.
The village dance school has now been named NKFC Conservatoire Preah Ream Bopha Devi, Chhouk Sar – Banteay Srey, and operates under the High Patronage of Samdech Reach Botrei Preah Ream Norodom Bopha Devi.
Many factors make the school unique: Pupils must display "good manners" and adhere to a strict set of criteria, including the stipulation that "they will never perform in hotels or restaurants where people are eating or drinking" because "it is sad to see this sacred art form damaged and devalued to only generate money as entertainment for tourists".
The school is just one component of the Siem Reap-based NGO, the Nginn Karet Foundation for Cambodia (NKFC), of which Coxen is chairman.
The NGO has a wide-ranging programs encompassing health, education and agricultural improvements in 14 "adopted" villages in the Banteay Srey district benefiting over 2,500 families. Some funds are now being raised by children selling 3,000 trees that were grown from seeds and saplings to teach the kids the importance of maintaining a healthy environment.
This tree-planting program began last year when the children grew 2,000 trees and raised US$3,012.
The genesis of the dance school dates back three years ago when King Sihamoni sent Coxen a DVD of a movie he'd made.
She organised an evening of entertainment for the villagers, and blind musician Kong Nai, a master of the chapei, or Cambodian lute, sang relevant songs about drinking safe water and other hygiene tips.
Coxen also trained three children to perform a welcome dance before the movie screening. When the King saw a video of the performance he was, according to Coxen, "completely flabbergasted and absolutely in love with the dancers. I was then asked to start a dance school".
"I started the school in our centre near Banteay Srey temple. We selected children and they were like little monkeys, undisciplined and loud.
"But I had promised to start a dance school and I was determined to give it a go. If in three months time it didn't work, I would skip it.
"I put a dance teacher on three months probation and then, three months later, I came to see them perform. I had tears in my eyes. They had turned into little swans," she said.
"The discipline they showed was magnificent."
This year, the number of dancers has grown to 147, and the school carries on its mission of "transforming little muddy children into elegant, gracious creatures dancing with their soul".
In February, Coxen took 38 of her best dancers to Phnom Penh to perform for the King in the dance hall in front of the Royal Palace.
Everyone now believes that the gods of Angkor were present during the ceremony.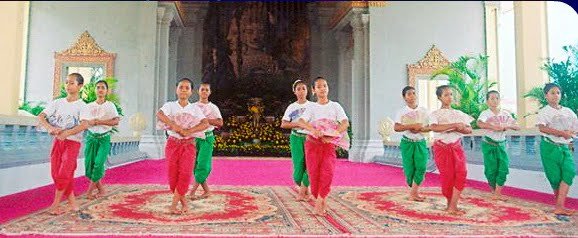 "This was the first time in recent history that our sacred dance was performed for a Cambodian King. King Sihamoni watched, not just as a king, but also as a teacher. He was very pleasantly surprised and very complimentary. He was so moved by their precision of rhythm and movement."
Inspired, Coxen then decided to organise another special performance in honour of King Sihamoni to coincide with his birthday. She opted for a sacred ritual in the Banteay Srey temple using 57 dancers, signifying the age of the monarch.
"This sacred ritual probably hasn't been performed in a temple in at least a thousand years," she claimed. "In the morning, we planted 57 trees in honour of the King in the pagoda at Rohall village.
"As part of a traditional Boung Soung ritual, the 57 children then danced to choreography of mine, inspired by a sacred dance from the Reamker, or the Ramayana."
Coxen did away with traditional heavy costumes and make-up, and instead designed ethereal white gowns made partly from mosquito netting.
"I was inspired by the carvings at Angkor and kept the clothing very light, very divine, to appear as dew from the celestial gardens in the rays of the moonlight."
She fashioned hair extensions and braids to recreate sketches made by Sappho Marchal, the daughter of renowned Angkor conservator, Henri Marchal. Sappho grew up among the ruins of Angkor Wat and spent years drawing the devata whose images dominate the entire temple . In 1927, when she was 23 years old, Sappho published her book "Khmer Costumes & Ornaments: After the Devata of Angkor Wat," which was reissued in English in 2005 .
After the dance, 57 komes – large lit kites – were released into the sky and then, as participants prepared to go home, the skies opened up.
"I prayed for a week beforehand that no rain would ruin the ceremony. But when the ceremony concluded, guess what? The rain fell like crazy!
"Everyone now believes that the gods of Angkor were present during the ceremony," a smiling Coxen recounted.
ADDITIONAL INFORMATION ABOUT THE BUONG SUONG RITUAL: According to the book Earth in Flower: The Divine Mystery of the Cambodian Dance Drama by Dr. Paul Cravath:
"the royal ceremony to bring rain was known as buong suong tevada; loosely translated it means 'paying respect to the heavenly (feminine) spirits.' The dances performed as the offering in buong suong must be among those considered sacred."
To learn more about the Nginn-Karet Foundation and their program to support traditional dance training please visit http://www.nkfc.org/
Nginn-Karet Foundation Teaches Cambodian Dance at Banteay Srey Temple