Sacred Cambodian Dancers Seek End to Preah Vihear Thailand Cambodia Border Clash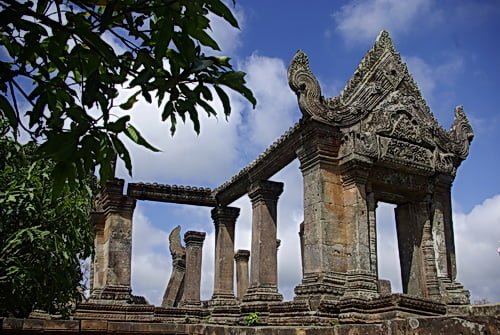 Strasbourg – The European Parliament has issued a strongly worded resolution seeking to end fighting between the armed forces of Thailand and Cambodia near the Khmer temple of Preah Vihear on the Cambodian-Thai border. (download a PDF of the resolution here)
Next year marks the 50th anniversary of the ruling by the International Court of Justice on June 15, 1962 that irrevocably ruled that the temple stood on Cambodian soil. Despite this, violence erupted in the area again in early February, resulting in fatalities to soldiers and the displacement of innocent civilians on both sides.
According to media reports, shelling from Thailand during the recent clash has caused serious damage to the ancient Khmer temple itself. UNESCO listed Preah Vihear as a World Heritage site on July 7, 2008. The European Parliament notes that the international community has a special responsibility to preserve this monument.
Respecting Preah Vihear as a Sacred Site
Sadly, to Khmer and Hindu people throughout the world, the temple of Preah Vihear is a spiritual site that deserves respect above the affairs of governments and armies.
To honor the temple's sacred nature, a special group of children gathered there on August 17, 2010 to perform a religious ceremony of rare intensity called a "buong suong". At that time, sixty-two young girls danced a sacred ritual praying for peace.
All the children are students at the Conservatoire NKFC Samdech Preah Ream Buppha Devi, the first school of Cambodian dance to operate under the Royal Patronage of HRH Princess Buppha Devi.
The peace ritual was organized by Ravynn Karet Coxen, founder of the Nginn-Karet Foundation for Cambodia, as part of her ongoing effort to bring purity and respect to Khmer temples throughout the region. Though unable to return to Preah Vihear due to the fighting, the NKFC troupe conducted another peace ritual 12 km from the Cambodian-Thai border on February 10, 2011, at the temple of Banteay Chhmar.
These children join people throughout the world who wish to see the sanctity of this and every sacred Khmer temple respected.
Other Preah Vihear Resources
Click here to download a PDF of the European Parliament resolution on the border clashes between Thailand and Cambodia (117k)
Sacred Dance Arts Sooth Cambodian Souls
Cambodia Complains of Google Map Mistake at Preah Vihear
Preah-Vihear.com – Useful maps and historical information