Cambodia's Sacred Dancers Perform at Angkor on BBC TV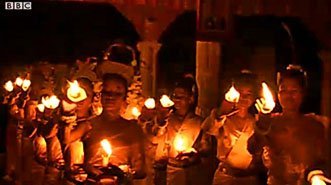 Siem Reap, Cambodia – Go for dinner in Cambodia's tourist centre and there's a good chance you will see a dance performance. But some educated people are beginning to complain that the dancers are not properly trained – and the rattling of cutlery debases the traditional art-form of sacred dancers.
Please click any photo below to see the BBC video report Reviving Cambodia's Sacred Temple Dances.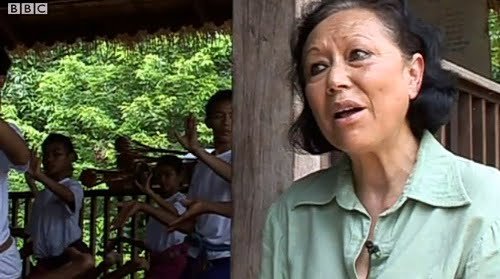 Near the small temple of Banteay Srey, Ravynn Karet-Coxen has established a school for "sacred dancers" to present dance in the context originally intended, as Guy De Launey reports in this BBC feature. Children at the Nginn Karet Foundation for Cambodia dance school now learn to dance with discipline, following ancient style of dance developed in Angkor to respect the Khmer gods, king and people.
Temple Rituals by NKFC Sacred Dancers
The articles below describe dance rituals performed by the NKFC troupe at other Khmer temples.
The Art of Sacred Dance in Cambodia