Book Review of Khajuraho by Devangana Desai
Khajuraho: An elegant introduction to one of India's most exotic temples
By Kent Davis  Buy this book on Amazon Book Review of Khajuraho by Devangana Desai 

To the author's credit, her compact book (only 107 pages) in an ideal introduction to this important temple group built in central India from 900-1200AD. This review appears here because the latter part of Khajuraho's era is contemporary with the construction of Angkor Wat, the largest religious structure built in human history, which is the focus of our devata research.
Khajuraho is also filled with female imagery, but of an entirely different type. While Khajuraho depicts graphic sexual acts and sexually charged female carvings, Angkor Wat depicts women in another spiritual context, as yet undefined.
Ms. Desai's book covers a broad range of topics including the history of the Khajuraho monuments, their architectural components and she addresses controversies inspired by their erotic content. The book has 13 illustrations, 2 maps and 29 photographs that clearly illustrate points raised in the text.
Travelers should consider this book an essential item for a visit; it includes a short appendix at the end with details about restaurants, hotels, transportation, guides and museums at the site.
For an in depth view of the topic, refer to the author's 1996 book "The Religious Imagery of Khajuraho" and her 1984 book "Erotic Sculpture of India: A Socio-Cultural Study."
This volume is from the Oxford University Press "Monumental Legacy" series about World Heritage Sites in India. Other books in the series cover the Ellora caves, Christian churches of Goa, Buddhist monuments of Sanchi, and more.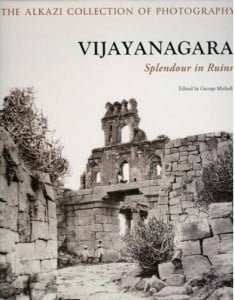 Another related books that will be of interest:
Vijayanagara: Splendor in Ruins about the 14th c. cultural center of Hampi
Paperback: 124 pages
Publisher: OUP India (January 9, 2003)
Language: English
ISBN-10: 0195656431
ISBN-13: 978-0195656435
Product Dimensions: 8.4 x 5.5 x 0.4 inches
Book Review of Khajuraho by Devangana Desai