George Groslier and the School of Cambodian Arts-Part 1
Born in Phnom Penh in 1887, George Groslier was a French artist, author, architect and historian who devoted his life to the study and revival of the ancient arts of the Khmer civilization. Groslier designed what is today the National Museum of Cambodia, opening the institution on April 13, 1920. Simultaneously, he founded the School of Cambodian Arts to revive the classic crafts of Cambodia. In 1936, English author Miss Harriet Winifred Ponder published Cambodian Glory, including a detailed chapter about George Groslier and the School of Cambodian Arts titled "The Tree of Knowledge." Excerpts from her article are featured on Devata.org as a four part series.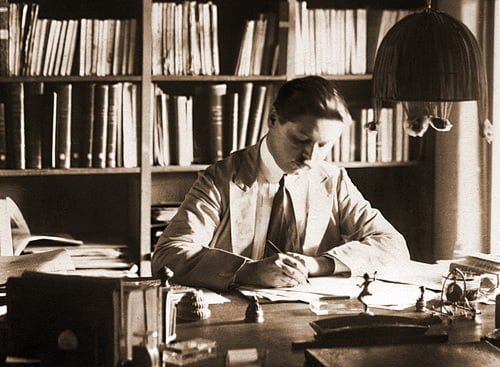 George Groslier and the School of Cambodian Arts: The Beginning
Few, probably, of the tourists who hurry through Phnom Penh on their way to Angkor, realize that the exception­ally beautiful Museum, with its high-peaked curving roofs and richly carved doors, is not only a repository of Khmer treasures, but a forcing-house for the crafts whose seed the Khmers have transmitted to their descendants. It is known as the 'Museum'; but in actual fact it is a school in the first place and a museum in the second; and the story of its origin deserves to be much better known than it is, for it illustrates a vision and idealism all too rare among the 'protectors' of Asiatic races; and it bids fair to bring about a renaissance that looked until recently a forlorn hope. With the coming of the French (as so often happens when foreign influences have free play among Eastern peoples) the novelty of imported European goods dis­tracted attention from old familiar things; and the protec­tion and support that the King and native aristocracy had always given to the arts was more and more withdrawn. So one by one the old craftsmen with the secrets of their forefathers' lovely arts hidden in their brains and hands, crept sadly back to the rice fields to earn a humble living; and the decorative crafts, which till then had managed to survive centuries of almost unceasing wars, bade fair to die out at last under a regime of peace. A faint attempt was made to rescue them when in 1907 the king's patronage [King Sisowath] was revived to some extent, and workshops were opened again in the Palace precincts: to which was later added a small school, whose products were sold to visitors; but the experiment was not a success.
In 1913 Henri Marchal (afterwards for many years Conservator of Angkor) drew public attention to the neglect of the ancient native crafts; and two years later the 'Society of Friends of Angkor' put forward a scheme for a school to foster these arts before the few surviving experts should have died out. Eventually George Groslier, on his return from war service, was invited by the Governor ­General, M. Albert Sarraut, to organize the scheme; and his programme—which emphasized that the instruction should be in the true native arts, without any attempt to influence or 'improve' them—being adopted without reserve, a credit of 150,000 piastres was voted. The same year the Cambodian king issued a decree transforming the 'Royal School' at the Palace workshops into a 'School of Cambodian Arts' combined with a Cambodian museum, placing both under French control.
The building that embodies M. Groslier's scheme is in itself a tangible expression of the whole idea. Its style and lay-out; Its roofs, eaves, frontons and decoration, all follow faithfully the true Khmer or Cambodian method, so unmistakable to those who know it; and it is, moreover, a reconstruction, probably not far from the truth, of the palace that once stood on the Elephant Terrace at Angkor Thom. Its lofty galleries and classrooms open on to charming courtyards, lawns and gardens, just as, no doubt, did the rooms of the palaces of long ago; and the whole of its decoration was done by native craftsmen and their pupils. The magnificently carved doors and shutters are their most notable achievement, as well as the most interesting for comparison with the carvings of Angkor. The centre door, measuring 16 feet by 7, was carved in 45 days by eight old craftsmen and ten of their pupils. 'We want you to make this like a door of Angkor!' said M. Groslier to them. 'Let us see that you are worthy sons of your forefathers!'—whereupon they tackled the task as though it were some delightful game.
The new school 'caught on' with the natives beyond all anticipations, and more than a hundred pupils appeared within three weeks of the doors being opened. A score or more would-be students for whom there was no room were soon always to be seen waiting on the chance that vacancies might occur, asking no more than a square yard of space in which to sit, and a scrap of paper on which to draw. Somehow or other the welcome news filtered through to the old men in the rice fields and forests, that the skill they had thought despised and forgotten was needed again; and in they came hastening, rubbing stiffened hands, conning over details of processes untouched, perhaps, for twenty years, but happily too deeply engraved in memory to be forgotten. The experts in each craft were not only appointed teachers, but grouped together in 'corporations', to produce articles for sale through the school, by which they are paid cash on their work being passed as satisfactory. These 'Corporations Cambodgiennes' achieved immed­iate success; and a series of articles by M. Groslier in the Révue Indo-chinoise, setting out the details of his scheme, attracted such attention as to result in the formation of similar schools and 'corporations' in other parts of Indo­-China on the Cambodian model. The work of all these groups won high praise at the last Paris Exhibition [i.e. 1931]. To be continued in Part 2: George Groslier and the School of Cambodian Arts-Part 2 Khmer Crafts.
About the Author
Harriet Winifred Ponder was born in England in 1883, living in Buckinghamshire. She was a close friend of opera singer Clare Butt, whose autobiography she published in 1928. Like American adventuress Helen Churchill Candee, Miss Ponder traveled extensively in Southeast Asia and the South Pacific, authoring four important books about Cambodia and Java. In recognition of her original research work, and her contributions to geographical knowledge, Miss Ponder became a Fellow of the Royal Geographical Society, London. She adopted Australia as her second home and died in Brisbane in 1967.
The Works of Harriet Winifred Ponder
1926. An idler in the islands. 14 illust. 1928. Clara Butt, her life-story. London: G.G. Harrap. 1936. Cambodian glory; the mystery of the deserted Khmer cities and their vanished splendour; and a description of life in Cambodia today. London: Thornton Butterworth, Ltd. 1934. Java pageant; a description of one of the world's richest, most beautiful, yet little known islands of the world & the strange customs & beliefs, the industries, religions & wars of its fascinating people. London: Seeley, Service & Co. 1942. Javanese panorama; a further account of the world's richest island, with some intimate pictures of life among the people of its lesser known regions. London: Seeley, Service & Co. 1944. In Javanese waters; some sidelights on a few of the countless, lovely, little known islands scattered over the Banda sea & some glimpses of their strange & stormy history. London: Seeley, Service & Co. Ltd.