Jean Despujols Prix de Rome Centennial 1914-2014
Honoring French artist Jean Despujols Prix de Rome Centennial
July 18, 1914 – July 18, 2014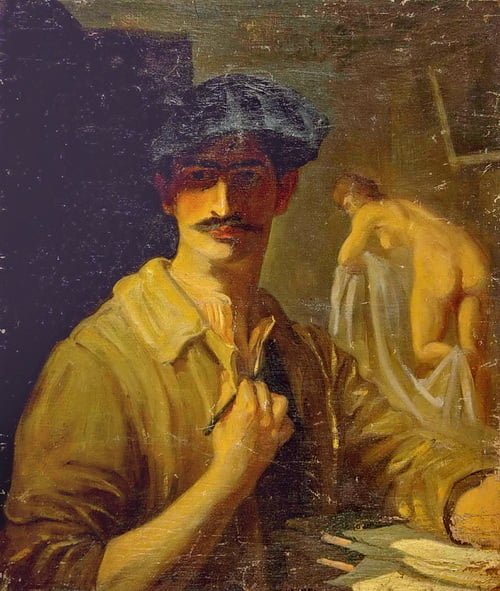 Who was Jean Despujols?
Born in Salles en Gironde, France on Mar. 19, 1886, Jean Despujols is best known to Southeast Asian scholars for his stunning art depicting French Indochina during his two-year mission throughout the region from 1936-1938. This article by his grandson, Godefroy Hofer, describes the event that established his reputation as a world-class artist and celebrates a magnificent anniversary: Jean Despujols Prix de Rome Centennial 1914-2014.
What is the Grand Prix de Rome?
Founded under the reign of King Louis XIV in 1663, the "Prix de Rome" became the art world's most distinctive art award for more than three centuries. Organized by the Académie de France, its winners were awarded generous scholarships, working sabbaticals at the Villa Medici in Rome and prestige that all but guaranteed a successful career.
Entry to the competition was limited to only 100 students each year in the fields of painting, sculpture, architecture and music. The strict requirements admitted only unmarried men, less than 30 years of age, who were studying in a workshop under the direction of a celebrated Master.
Several rigorous tests eliminated most competitors, with the final challenge narrowed to only 10 remaining candidates. This required the artists to be sequestered in individual studios for 72 days to create their final canvas on a specified theme. Finally, the completed paintings were displayed to the jury, journalists and the public. After 106 days, the Premier Grand Prix de Rome winner was announced (with two runners up).
One hundred years ago, the Premier
Grand Prix de Rome winner was Jean Despujols.
From 1911-1912, Jean was a pupil at the school of "Beaux Arts" of Bordeaux. In 1913, he transferred to the "Ecole Nationale Supérieure des Beaux Arts" in Paris, working in the studio of master artist Gabriel Ferrier. He first applied to the 1913 Prix de Rome competition with two works: his self-portrait (above) and a portrait of his mistress, Marie-Louise Aubert, whom he called "Mimi" (right). Both paintings were rejected!
On March 29, 1913 Jean wrote to Mimi:
"Ah, Mimi I am the most unhappy of men. I have only you to confide in. It appears that my portrait of you, which received many compliments, has been refused against all my predictions. Because finally, I was sponsored by Vincent LAPARRA. I don't understand anything more and I'm desperate. The competition begins April 14. Without this failure I was coming to Bordeaux tonight. But how can I tell my customers that I was not received at the Salon? Ah! It has never gone so badly. I don't want to see anybody now…

"Mimi, I show my artist's martyrdom. If I wanted to abandon the path I planned for myself it would be much easier to me to succeed. But I want only to make great art, art that remains eternal and not the type that passes. Art like that understood by Michel Ange and Vinci. Art that is nearly so religious it surpasses man. I will not be understood. I will be ridiculed. The school should reward me to continue the tradition that it will lose by abandoning me. But a day will come where I will be stronger than all. I have always believed it, I still believe it…"
Immediately after this disappointment, the will to fight and the certainty of success, such was Jean Despujols. He remained devoted to his vision of artistic perfection, quality that helped him during his life, in WWI, in his adventures in French Indochina and in the United States.
Jean Despujols Prix de Rome Centennial Victory
The year 1914 was unique because it offered three Premier Grand Prix awards: the 1913 award was not given and one previous winner was forced to relinquish his prize. In my humble opinion, only Jean Despujols should have received that year's prize because paintings by the other winners—Eugène Robert Pougheon and Victor-Julien Giraud—were of less beauty and did not respect the imposed topic.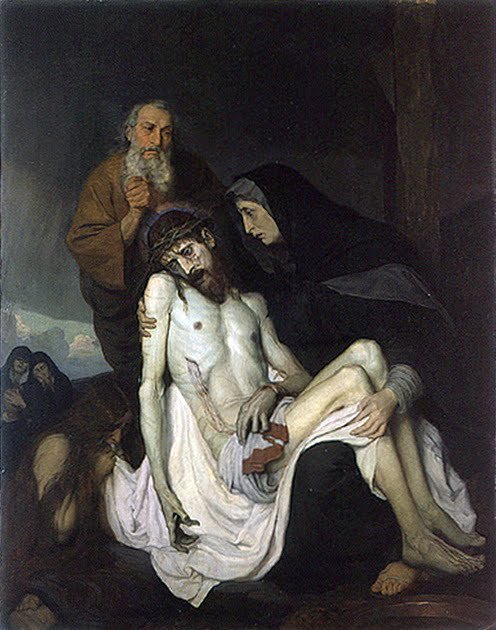 The only "family" testimony we have about the Premier Grand Prix de Rome is a letter from Mimi to her son André, who was serving in Morocco with the military:
« … Yes my dear son, everyone made me celebrate, cherished, pampered. Jean could not be more paternal and made me eat like four, paid all my expenses and even filled my wallet so that while coming I didn't have the disappointment of finding an empty purse.

I tell you and you already know of his success. Jean is the Prix de Rome winner; he made a superb canvas: an entirely beautiful Christ, a Madeleine beautiful and sincere in her distress. The Virgin is also mournful and truly mother-like, only Joseph of Arimatie appears too modern…In short, he doesn't complain and is very happy; it was the first time since I arrived that he was smiling so. In the evening an important dinner was offered at Lapérousse, a very chic restaurant, 20 Frs. per person. Adeline, Thévenot, Darquel, Faure, Vigneau, Despujols, me; during the dinner the photographer of the "Petit Parisien" paper came to make pictures; he made a photo of all of us; moreover he will give Jean some prints. I will get one, you will see it."
Unfortunately, no one saw this family photo; on August 2nd, 1914 Jean Despujols was mobilized for war. The First World War began and created Hell on Earth. It wasn't until after the war in December 1919 that Jean was finally able to begin his art scholarship stay at the Villa Medici in Rome.
Jean went on to win the Gold Medal of the "Salon des Artistes Français" and was, from 1924 to 1936, professor of portrait, figure painting and mural composition at the American Academy of Fine Arts in the palace of Fontainebleau, France.
Jean Despujols Artistic Mission to Indochina
In 1936, he was chosen by the "Société des Artistes Coloniaux" in Paris, France, to be sent on an artistic mission to French Indo-China upon request of the Colony. From December 23, 1936, to August 25, 1938, he travelled throughout Indochina by every conceivable means. Neglecting urban centers, he searched for the rare, for the unheard of, for beauty not yet revealed and penetrated deep into Southeast Asia.
The resulting collection of 338 works of art created between the two Great Wars is unique in the world, and is the last testimony of what was South-Eastern Asia before the wars that occurred. Jean regarded it among his greatest achievements. The complete collection remains intact and is displayed at the Meadows Museum in Shreveport, LA.  [www.centenary.edu/meadows]
This article by Godefroy Hofer, Jean's grandson. Contact : g.hofer@wanadoo.fr
Devata.org will be featuring more articles about Jean Despujols, and particularly his work in Cambodia and at Angkor in the near future.