Two Khmer Devata Goddesses in Sikhoraphum Thailand
Sikhoraphum, Thailand – Just one hundred miles to the south, the Khmer civilization sanctified thousands of female images on the walls of their most important temples, both Hindu and Buddhist. But here, in what is now modern day Thailand, only two devata remain, fulfilling a mysterious spiritual mission long since forgotten.
Prasat Sikhoraphum is a Khmer gem in the south central plateau of Northeastern Thailand, or Isaan as residents call the region. In the rainy season, Isaan turns into a green ocean of rice fields. But when the annual waters receed, the earth dries and cracks making survival challenging even for the hardy residents, many of whom have Khmer blood flowing through their veins.
Thailand's only two devata are not all that make Sikhoraphum temple unique. Its five towers are arranged in the same quincunx pattern as Angkor Wat itself, an especially rare configuration outside of Cambodia. This sacred design is limited to "state" temples, implying a high pedigree for this site.
But this makes sense, because this temple is thought to have actually been built under the direction of King Suryavarman II himself, the royal sponsor of Angkor Wat.
The main entrance gate is labeled "Wat Prasat" (วัดปราสาท), which could be translated as "temple temple" or a bit more eloquantly as "temple palace." (see bottom of article for links to our complete Sikhoraphum photo gallery)
The site is well-kept and the same Thai man, an artist in his own right as you will learn, has maintained and respected this temple for decades. The devata themselves face east, flanking the entrance to the central prang, or tower.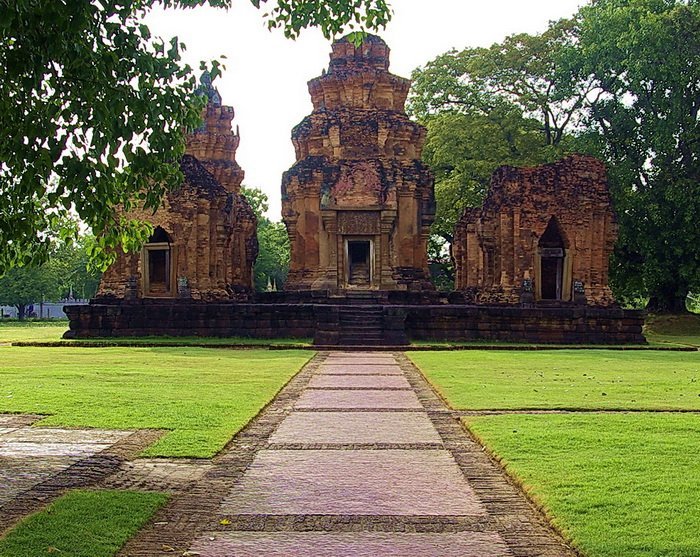 The terrace of the temple (seen above) is 82 ft long (25 meters) with five tall prangs (towers) marking the corners and center. The structure is built of laterite and sandstone. It is important to note that the unusual "layer-cake" shape of the towers is attributed to brick remodeling done by by Laotian invaders in the 15th-16th century. Asger Mollerup suggests that the "Laotian invaders" may have simply been Laotian migrants. Indeed, "invaders" don't usually contribute to public works.
In addition to the devata themselves, the door lintels and posts are magnificently carved. The secondary towers also house Buddhist relics and Khmer text, as you can see in the complete photo gallery.
So let us get to the "stars" of the temple: the devata.
These women are the most prominent figures, standing on the most auspicious eastern side of the dawning sun, and flanking the main entrance of the central tower. I shall leave it to the logic of the viewer to decide if these women were "decorations" or a more important element of the spiritual plan of this temple. Each woman is accompanied by a Khmer "guardian" on the side wall.
The South Devata of Sikhoraphum
Smiling sweetly, the south devata stands surrounded by foliage and playful forest creatures. Her right hand, palm out, grasps a long-stem flower with the most popular sacred mudra (a spiritually symbolic hand position) seen at Angkor Wat. Her left hand holds a long seed pod below her navel. Still, her rounded face is not typical when compared to the faces of women at Angkor Wat.
Her heavy earrings, necklace and armbands are like those at Angkor Wat, but she only wears single ankle bands and her crown style varies with a lower, broader central element.
Also note the small leaf-shaped objects over her ears. Within the context of our research, this small detail could be of great significance. At Angkor Wat, it is only seen on portraits of women displaying multiple attributes of power.
Her hips are broad and below her navel we see markings, again like those on many women at Angkor Wat. Waist-Hip Ratio, a scientific determinant of health and fertility pioneered by Dr. Devendra Singh, is one of our research parameters: the south devata has a ratio of .57.
Her sampot (Khmer skirt) blossoms out at the waist, a classic style seen at Angkor. This sampot style combines a long central "fishtail" with the outside "tail" typical of Angkor Wat devata.
Her feet are most interesting because of the exaggerated pose of lifting the toes and rolling up onto the sides of the foot. This move does not exist in modern classical dance in Cambodia or Thailand, nor is there anything to indicate that this woman is a dancer, performer or musician.
Finally, let's consider the menagerie that joins her in her portrait. At Angkor Wat perhaps a dozen or so devata (out of 1,779) are seen with small birds. One is even portrayed with a tiny chihuahua-type dog.
But here we see first a parrot-like bird at the upper right, then on the left a squirrel chasing an unidentified animal with a long nose (or bill), and perhaps another animal in the lower left, now obscured by erosion.
The mood of her entire portrait is playful, relaxed and pleasant.
The North Devata of Sikhoraphum

Her sister to the north is similar, but with some key differences. Her jewelry is clearly Angkor Wat style, with the exception of her single anklet.
Again, we see the gentle facial expression and unusual crown. The crown, by the way, resembles one seen at Wat Phu in Laos. There are only four devata that exist outside of Cambodia, and the other two are there.
This time, however, she does not display the leaf elements above the ears.
She also holds the long-stemmed flower mid-body with the classic mudra. Her other hand clearly holds a seed pod below the navel.
Her waist is thin, her stomach is marked below the navel and her hips are also especially broad. Her Waist-Hip Ratio is .59.
The sampot again has the classic elements of a wide, blossoming waistband and center "fishtail," while also including the characteristic Angkorian element of the long outside tail.
Her feet clearly show the toes upraised, but not nearly as much as the other devata.
Last, her animal friends include a squirrel and an absolutely huge bird that may be a Derbyan Parakeet, which have been kept as pets in China since medieval times.
To conclude, the temple of  Sikhoraphum is a sacred place – certainly one of the most unusual Khmer locations in Thailand – and is well worth the detour if you are fortunate enough to travel to this region. 
Additional Sikhoraphum Media 

Two Khmer Devata Goddesses in Sikhoraphum Thailand
Sikhoraphum Photo Gallery
Link to the main gallery here or follow individual links below.

The Caretaker's Art Gallery at Sikhoraphum
Above I mentioned that the caretaker is an artist. In his spare time, he creates these mythic characters from natural materials, displaying them across an unpaved street directly to the east of the temple. He explained that he doesn't sell them…he makes them for the sake of art. This link takes you to his entire collection.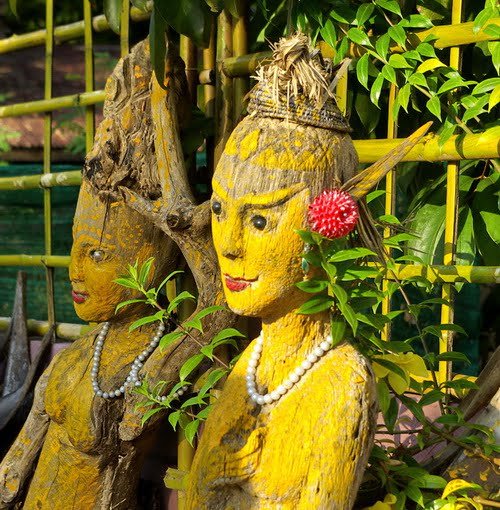 Andrew Hicks' Visit to Sikhoraphum
In my Sikhoraphum research I found best-selling author Andrew Hicks, who has a readable, well illustrated account of his 2008 visit to Sikoraphum.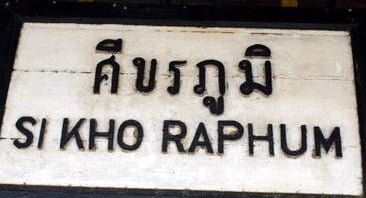 Prasat Sikhoraphum Video: Thousand Year Legend Festival
This video of a 2008 Surin festival was posted by VisitSurin.com. Skip past the world news feeds at the top and scroll down to find a treasure trove of info, photos and videos about this fascinating area. The page is filled (perhaps overloaded? …it's a Thai web thing) with media. But from this festival it is quite clear that Northeastern Thailand is maintaining and respecting Khmer traditions.
Khmer Temples in Thailand and Laos
The following map shows that Isaan is rich with Khmer temples and culture. Note that Banteay Chhmar and Preah Vihear are both located in Cambodia.
1

Wat Chao Chan, Wat Mahathat

11

Prasat Phimai

21

Prasat Kamphaeng Yai

2

Ramkamhaeng, Sen Ta Pa Daeng, Wat Si Sawai

Wat Phra Pai Luang

12

Prang Ku

22

Prasat Kamphaeng Noi

3

Wat Mahathat

, Prang Sam Yod, Prang Khaek

13

Ku Suang Taeng

23

Prasat narai Jaeng Waeng

4

Muang Singh

14

Prasat Phnom Rung

, Kuti Reussi #1/#2, Ban Bu,

Muang Tham

24

Wat Phu

5

Wat Kamphaeng Laeng

15

Bai Baek

25

Huei Thamo

6

Prasat Khao Noi

16

Ban Kruat

7

Sdok Kok Thom

17

Ta Muen Thom, Ta Muen, Ta Muen Toch – NOTE – Temple ownership is disputed. SEE COMMENTS BELOW

8

Si Khiu

18

Prasat Ban Phluang

9

Prasat Non Ku, Prasat Muang Khaek, Muang Gao

19

Prasat Yai Ngao, Prasat Phum Phon

10

Phnom Wan

20

Prasat Sikoraphum