Images of the Gods by Vittorio Roveda Book Review
An essential visual encyclopedia of Khmer art
Southeast Asia is a complex intersection of South Asian and East Asian cultures; from the 9th to the 14th centuries the Khmer Empire ruled the peninsula, linking this diverse cultural network. In his book, Vittorio Roveda has succeeded in creating the ultimate visual reference of Khmer art.
Roveda has made two profound prior contributions to Khmer history: his 1998 work Khmer Mythology: Secrets Of Angkor Wat, followed by Sacred Angkor: The Carved Reliefs of Angkor Wat in 2007. As his third major work, Images of the Gods: Khmer Mythology in Cambodia, Laos & Thailand, draws from both previous studies while including the photography of Jaro Poncar and others to capture the diversity of this complex civilization.
This is another extraordinary production from publisher Narisa Chakrabongse, and her talented team at River Books in Thailand, which also produced Bayon New Perspectives with Roveda as a contributing author. Seeing an edition from River Books Press guarantees quality, value and graphic sophistication.
It is important to note that the North American edition from Ray Furse at Floating World Editions also relies on the Thailand printing model. Books like this are, unfortunately, not possible to produce in the United States at this price point. "Images of the Gods" is a casebound edition of 640 pages with more than 1,800 color illustrations. The book also includes a photo CD (that I personally found tedious – difficult to navigate with low quality digital images). But as a "freebie" in a book that Amazon now sells for $80? A crazy good value for anyone interested in the subtleties of Khmer art.
The photos are indexed by legend, description and era.
To give an idea of the scope of the book, the Table of Contents includes: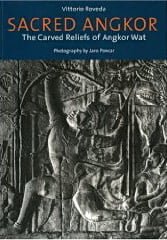 Making images of the gods;
Images in Khmer art;
Chronology of Khmer images and styles;
Vaishnava myths;
Krishna myths;
The Mahabharata;
The legend of Rama;
The Shiva myths;
Lesser gods and deities;
Mythological figures and events;
Buddhist legends;
The Jatakas;
The Bodhisattva;
Heraldic images of the Buddha;
Historic and secular events;
Tapestry reliefs;
Undecoded reliefs;
The diffusion of images in Cambodia;
The diffusion of images in Thailand and Laos;
Visual narratives: a summary;
Selected temple plans;
End notes; Glossary; Bibliography; and Index.
This is a masterpiece of Khmer art history and an essential reference tool for any library relating to Asian art.
Review by Kent Davis
Images of the Gods by Vittorio Roveda Book Review