NPR Features Cambodia's Lost Temple of Sdok Kok Thom
An Indiana Jones Lost Temple Story on the Thai-Cambodia border (Podcast link below)
One thousand years ago the Khmer Empire was the Rome of Southeast Asia, yet the magnificent civilization rose, fell and vanished without ever being known in the West.
As a journalist covering the Khmer Rouge refugee crisis in 1979, John Burgess stumbled upon an ancient lost temple…now in ruins near the Thai-Cambodian border. Thirty years later, he reveals fascinating details about the unique history of this Khmer temple in the new book, Stories in Stone – The Sdok Kok Thom Inscription & the Enigma of Khmer History.
OnPoint's host Tom Ashbrook was well prepared for his riveting one-hour interview with Burgess who begins his story with the Hindu priests who founded the provincial temple of Sdok Kok Thom. Centuries later, French explorers discovered that this special shrine held an inscription unlike any other left by the ancient empire. Like the famed Rosetta Stone of ancient Egypt one square pillar was written in two languages enabling translators to unlock the mysteries of the Khmer era.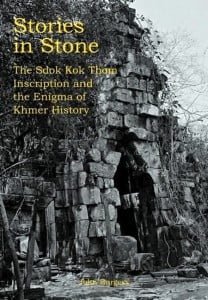 Among local Thais in the rural setting the temple acquired a mystical reputation, attracting villagers, Buddhist priests and treasure hunters before becoming a symbol of hope to thousands of Cambodian refugees fleeing the Khmer Rouge in their war-torn land.
Today, the temple still embodies the sometimes violent conflict between Cambodia and Thailand, two neighboring countries sharing the same blood and the same Khmer ancestors.
Burgess takes readers on his adventurous first-person account of discovering the secrets of Sdok Kok Thom.
Stories in Stone is now available in Asia and will be available in the US in November.
The show also includes Khatharya Um, professor of Asian studies at the University of California, Berkeley and Ethan Holtzman, co-founder and musician for the band "Dengue Fever".