The Armies of Angkor Military Structure and Weaponry of the Khmers Book Review
Khmer Combat Haute Couture:  The Style of Ancient SE Asian Warfare
Review by Kent Davis  –  Purchase this book on Amazon

Michel Jacq-Hergoualc'h's artistic and analytical milestone is a fascinating resource for Khmerophiles everywhere, as well as for readers interested in ancient warfare in general.
The only written records of the mysterious Khmer Empire to reach our times are temple inscriptions and the account of the 13th century Chinese traveler, Zhou Daguan (brilliantly translated to English by Peter Harris in 2007). Michel Jacq-Hergoualc'h, however, has drawn upon an entirely visual medium to learn more about this culture: the extensive bas relief illustrations on three key temples: Angkor Wat, the Bayon and Banteay Chmar.
These lavish depictions clearly show the royal armies of King Suryavarman II and King Jayavarman VII, the two ruling monarchs at the peak of the Khmer Empire in the 12th and 13th centuries. Years of painstaking photo analysis enabled the author to create a series of crisp, line art illustrations revealing an astounding range of equipment and decoration in the military ranks. The diversity, precision and beauty of these decorations are far beyond what one would expect.
The Armies of Angkor
Military Structure and Weaponry of the Khmers Book Review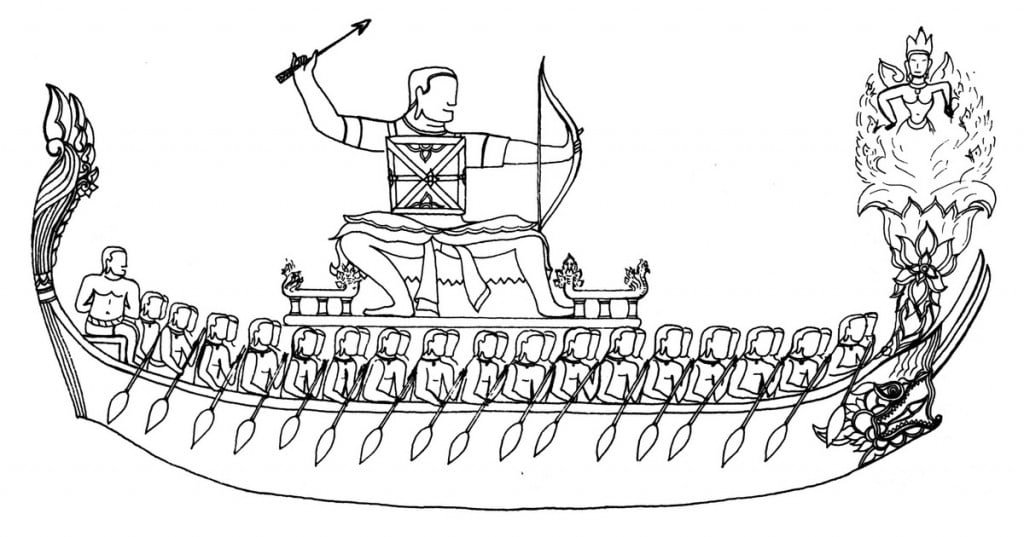 The author draws from many expert predecessors, especially the work of George Groslier. But through his illustrations, this book offers images clearer than anyone has ever seen. This clarity, and his systematic renderings, allow Jacq-Hergoualc'h to make new deductions about the nature of ancient warfare in Southeast Asia.
The book immediately reminded me of another Orchid Press favorite; the first English translation of Sappho Marchal's 1927 work, "Khmer Costumes and Ornaments of the Devatas of Angkor Wat". While Marchal's book offers a beautiful artistic study, Jacq-Hergoualc'h gives readers much more in terms of analysis and interpretation.
Visiting the temples of Angkor with this book in hand offers visitors an entirely new experience when examining the bas-relief carvings. Personally, I can't wait to return to look for some of the subtleties (and oddities!) that have been brought to light. Although the author has created a substantive reference work, his book is written in plain language and is quite accessible. Michael Smithies delivers a brilliant translation from the original French, no small feat given the intricate descriptions contained within.
The bottom line is that this clear artwork, and the author's explanations, make viewing the bas reliefs far easier, far more enlightening and far more entertaining than any other guidebook.
In closing, note that this Orchid Press book is beautifully produced. The Smyth hand-sewn hardcover volume was printed in Thailand. Its handsome dust jacket gives it a rich appearance and high quality coated stock makes the text and 158 illustrations exceptionally clear.  A great gift that will give much enjoyment for your favorite Cambodia-bound traveler, even if it's for yourself!
Kent Davis is a US-based publisher, author and independent researcher specializing in Khmer studies with DatAsia, Inc. and Devata.org.
The Armies of Angkor Military Structure and Weaponry of the Khmers Book Review