Angkor Wat Interactive on National Geographic
Angkor Wat fans who enjoyed "Divining Angkor" – National Geographic's July 2009 cover story by Richard Stone – should also visit their website for more stunning visuals in a special animation presentation. Angkor Wat Interactive on National Geographic
The feature includes profiles of seven major Khmer temples including Angkor Wat, Phnom Bakheng, Prasat Kravanh, Phimeanakas, Ta Keo, Preah Khan and Bayon.
The highlight of the site is a series of eight 3D animations of landscapes and daily life at Angkor in the 13th century CE. This page on NASA's website features two images not included on the National Geographic page. Readers interested in historical animation should also see our article Virtual Tourists Experience Angkor Wat in 3D Visit.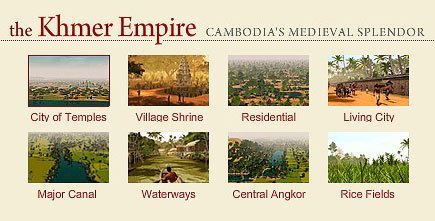 These views and ambiant soundscapes were created collaboratively by Monash University and the University of Sydney. One example is a village shrine, shown below.
The Monash animation team, coordinated by Tom Chandler, was assisted by Roland Fletcher, Christophe Pottier, Martin Polkinghome and the Monash Faculty of TT and the Monash Asia Institute.
The site includes one page on spiritual beliefs of the Khmers…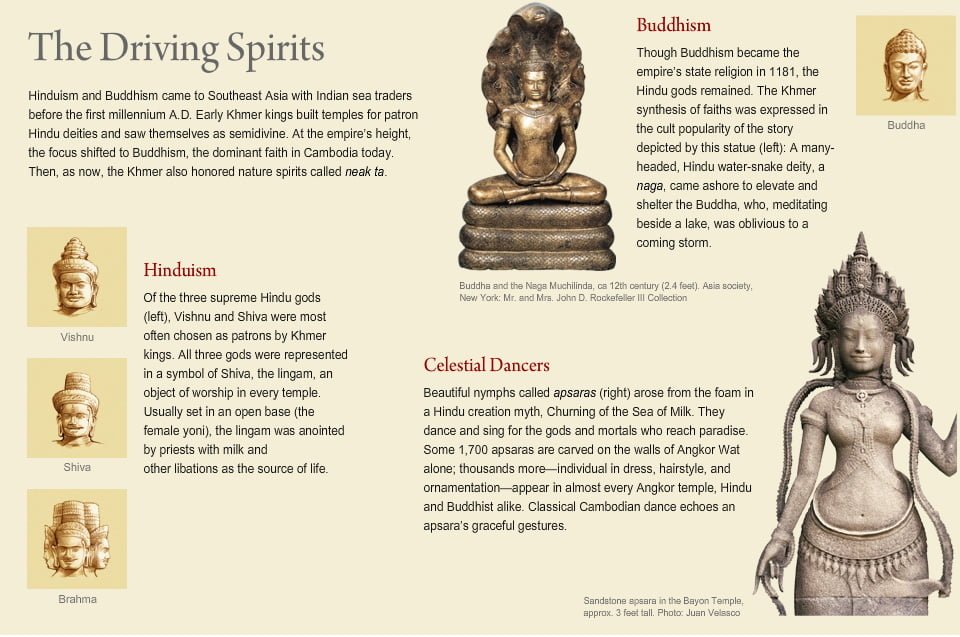 The site's overview of female imagery in Khmer temples is unfortunately inaccurate and quite superficial. Calling all female images in all Khmer temples "celestial dancers" and "apsaras" contradicts a considerable amount of research on this site, as well as the work of Trudy Jacobsen, Peter Sharrock, Miranda Shaw, Sappho Marchal, and many other scholars.
"Some 1,700 apsaras [sic] are carved on the walls of Angkor Wat alone; thousands more – individual in dress, hairstyle, and ornamentation – appear in almost every Angkor temple, Hindu and Buddhist alike." In our view, true apsaras are only featured at Angkor Wat above the Churning of the Sea of Milk bas relief. We refer to to other types of female images by the more general term "devata" until specific types of women are defined.
National Geographic's  estimated count is accurate because Devata.org provided their researcher with a count in April 2009 (1,796 devata are at Angkor Wat in our present inventory).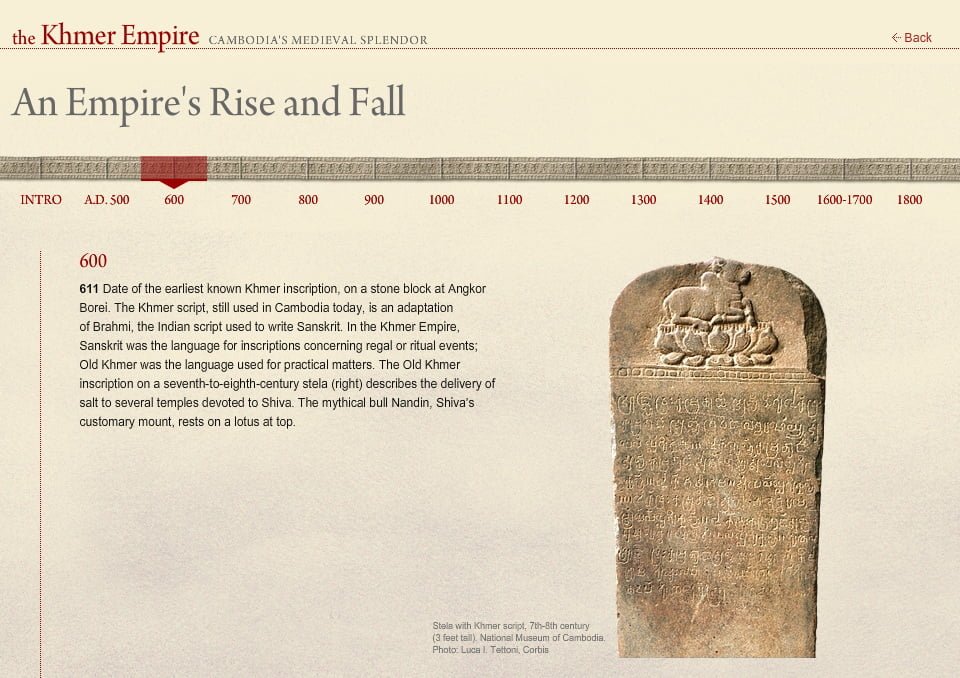 The Khmer Empire Timeline is rather general, picking out only a couple significant events and structures for each century.
Finally, there's a Cambodia quiz with fun questions.  But don't people leave incense for the Buddhas as well as lotus flowers? I guess I'm just miffed because I got one wrong. (-: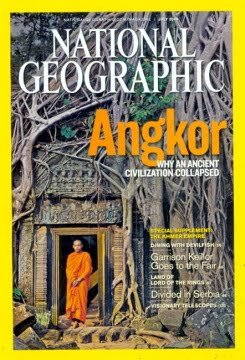 Article by Kent Davis