Book Review of Costumes of the Devata of Angkor Wat by Sappho Marchal
A mystery. How is it that in 1927, a 23-year-old artist had more insights into the diversity of the 1,800 devata goddesses at the Khmer temple of Angkor Wat than mainstream scholars would for the next 80 years?
Equipped with nothing but a pad of paper and a pencil, Sappho Marchal was the first person to begin a quantitative analysis of the symbolism encoded in the royal female portraits immortalized in Angkor Wat. Who were these women? What hierarchy do they represent? Chances are the answers to these questions are portrayed in Sappho's clear drawings. Originally published as "Costumes et parures khmèrs d'après les devatâ d'Angkor-Vat" this long lost gem of Asian history, art, culture, fashion & feminine style is available in English as "Costumes of the Devata of Angkor Wat."
Sappho Marchal's visual meditation of the women of Angkor Wat is a gem to treasure for the images it holds and the ideas it will inspire.
While the topic of Khmer adornment occupies a narrow niche of academic knowledge, its exquisite style holds universal appeal as world-class art. Indeed, Asian art, fashion, history, jewelry, graphic design, feminine style and culture all intersect in her compact 99 page work.
Marchal's book revolves around 41 plates with line art drawings of the "apsara" or "devata" carvings at Angkor Wat in Cambodia (see slideshow below). More than 1,800 Asian woman were immortalized in sandstone between 1116-1150AD. Some experts characterize the figures as "celestial nymphs" or demi-goddesses called "devatas" but these terms were applied long after the fall of this civilization. The truth is that the identity and meaning of the Angkor Wat women remain a mystery.
What is undeniable is the beauty, life and energy the carvings radiate. Some art historians see the Angkor civilization as the pinnacle of artistic expression in Asia. Dr. Paul Cravath of the University of Hawaii elegantly captured the essence of the "devata" when he wrote, "There, with stupendous variety, the Feminine achieved a new level of expression unsurpassed at any time in Asian sculpture."
In 1927, Sappho Marchal published her original work in Paris when she was only 23 years old. Sappho was in a unique position to study Angkor Wat; her father, Henri Marchal, was appointed the second curator of the vast Angkor site for the French colonial government in 1916. Sappho grew up with these extraordinary Khmer women.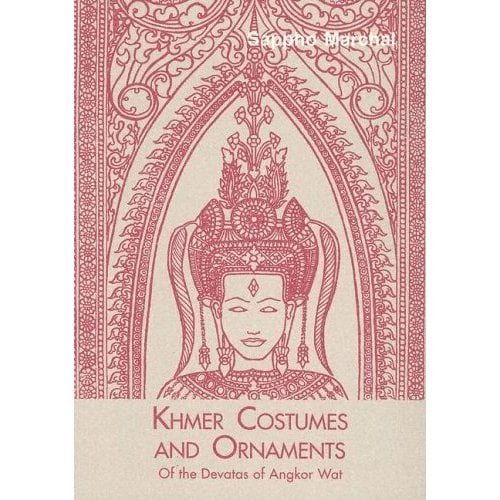 Seeing the devatas through this young lady's eyes holds immense value for researchers of art and history alike. Mlle Machal highlights details of their hair, costumes and ornamentation that archeologists, in their mad rush to measure large stones and determine stellar alignments, have never paused to notice. Her sensitivity and attention to detail is refreshing. In fact, there is no other volume that offers this degree of analysis for these important carvings.
Merrily Hansen's 25 years of educational publishing experience resulted in an excellent translation and flawless plate reproductions for this rare volume's reprinting by Orchid Press.
Sappho Marchal's "Costumes of the Devata of Angkor Wat" offers inspiration in design and feminine style, and a pleasant meditation on one of the most beautiful art mysteries in the world.
For those interested in Southeast Asian, Thai and Cambodian art this book is indispensable.
But the truth is that this is a beautiful book for anyone.
Review by Kent Davis, a US-based publisher, author and independent researcher specializing in Khmer studies with DatAsia, Inc. and Devata.org.
Book Review of Costumes of the Devata of Angkor Wat by Sappho Marchal